Recall Meatless May? I do. Quite clearly.
Ever since then I have been keeping my eyes open for really fun and inspiring vegetarian recipes and I found one in this month's Whole Living (plus, after too few veggies while at Hershey, we needed to big veggie dish).
Baked Potato, Tomato & Zucchini Pesto Casserole Recipe
Inspired by/adapted from Whole Living Magazine
Ingredients:
1 tablespoon extra-virgin olive oil
1/2 sweet onion, sliced
4 tablespoons pesto
2 medium organic tomatoes, sliced 1/4 inch thick
1 medium yellow or green zucchini, sliced 1/4 inch thick
3 red potatoes, sliced 1/4 inch thick
3 tablespoons freshly grated or shredded Parmesan
coarse salt and pepper, optional
ground black pepper, optional
Directions:
1. Heat the oven to 375 degrees. Heat the EVOO in over medium heat and then saute the onions for 5-6 minutes. Meanwhile, schmear 2 tablespoons of pesto over the bottom of a 12 inch casserole dish and cut up the potatoes, tomatoes and zucchini.
2. Scatter the onions over the pesto and then layer the potatoes, tomatoes and zucchini on top. Go crazy and create any pattern you like.
3. Brush the remaining 2 tablespoons of pesto on top, scatter the Parmesan on top and a few pinches of salt and pepper.
4. Cover with foil and bake for 30 minutes. Uncover and bake for 20 additional minutes. Feel free to scatter additional Parmesan on top – you deserve it!
A pictorial for your viewing pleasure: Scatter sauteed onions…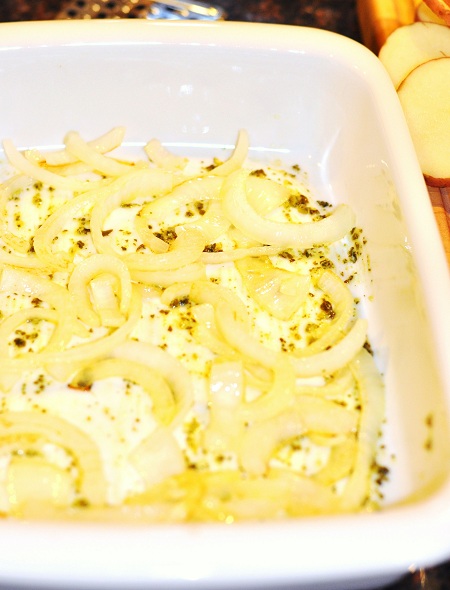 Layer the potatoes, tomatoes and zucchini and schmear on the pesto….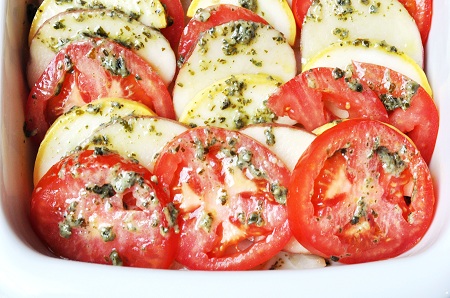 Douse Sprinkle with Parmesan…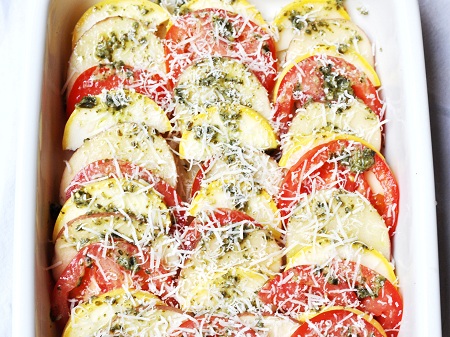 and bake…then add more Parmesan. Who said that?