I made Mother Nature mad. I don't know that I did but she is mad.
Tuesday we had an Earthquake and this weekend it appears that Hurricane Irene is coming to bother us.
I need comfort and so I am resorting to a good ole' cheap inexpensive comfort recipe from Mom: Spaghetti and Cheese.
Plus, with it being back to school time, I thought it was a good time to give you a kickin homemade mac-n-cheese recipe. Yeah, go for it, use any macaroni shape you want and dang, keep an eye out for the variations I will be tossing at you in the coming weeks.
Heat up the Thermos and send your babes to school with this and all the other kids will be totally jeals. For reals.
This recipe hails from my chilhood. We were poor. We ate this once a week.
Now I update it with whole grain/whole wheat pasta and often experiment with reduced fat cheddar with a soft melty cheese melted in. I even make it with broccoli. Not this time.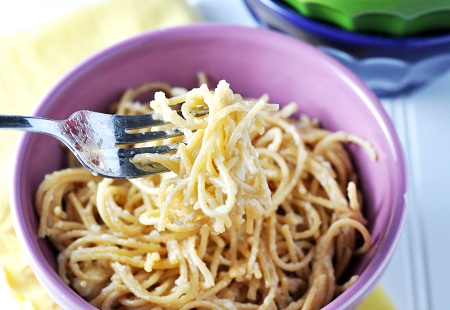 First up for this recipe is the cheese. While the pasta is cooking, you chop the cheese up into little blocks.
This cheese needs to be ready as soon as you are done draining the pasta.
While the cheese is draining, toss some of the cheese into the hot pan.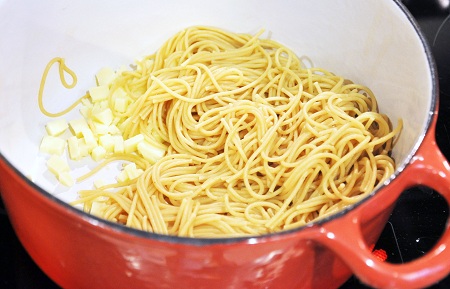 No toss 1/3 of the pasta on top of the cheese….repeat two more times….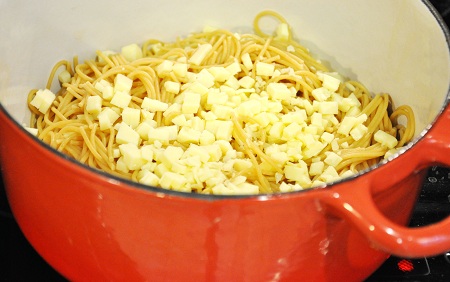 Now put the lid on top and walk away…..walk. You can stir it in one minute. Recover the pot for another minute and repeat.
Now it is all melty so you can taste a fork full, season, mix well and serve up before everyone knocks you out of the way.
That was a teaser, here is the full recipe.
Stovetop Spaghetti 'Mac' and Cheese (serves 6 or more)
Ingredients:
1 lb. whole grain or whole wheat spaghetti (or noodle of choice)
8 oz. sharp cheddar cheese, chopped into small pieces
Directions:
1. Bring a large pot of salted water to a boil and cook the pasta to package instructions.
2. Meanwhile, chop the cheese into small pieces. Drain the spaghetti and then immediately toss the cheese into the pot and 1/3 or so of the pasta on top. Repeat twice and place the lid on the pot.
3. After a minute or so, toss the pasta and cheese. Replace the lid for another minute or so, mix well. Taste, season, toss and fill those bowls with this cheesy goodness.
Amen.
Now repent with some fruits and vegetables.
Have you signed up for the daily post to be delivered to your inbox?