This is the story of a misunderstanding and inserting my foot in my mouth (big sigh).
Before getting into that embarrassing but fun story, I will wrap up a few summit details: After breakfast and some time with the sponsors and brands, I attended the 'write a better recipe' session.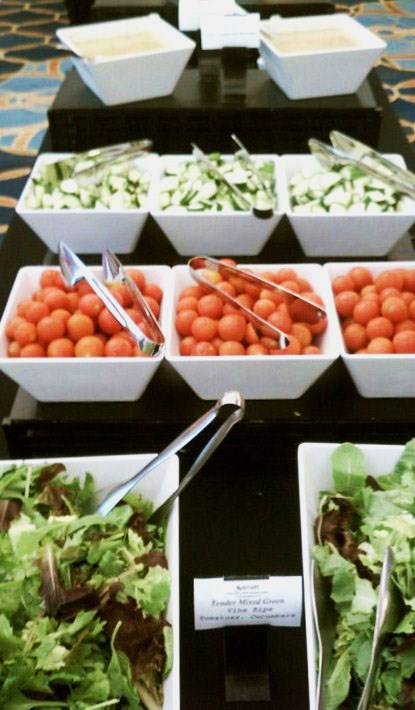 The session was presented by the fabulous Stephanie of SparkPeople (she is releasing a cookbook soon!) followed by a workshop on the power of action mantras, lead by Dawn Blatner, author of 'The Flexitarian Diet'. These are both passionate and engaging women.
The better recipe session including suggestions such as, describing flavors, including prep and cooking times, providing yield/servings, avoiding too many photos, and even sharing some tips and substitutions.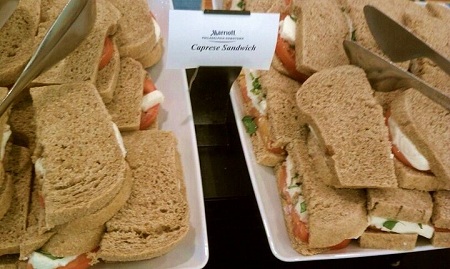 Lunch consisted of a spread of sandwiches on Great Harvest Bread (a MUST try) including a caprese and a grilled vegetable. There was also a quinoa chickpea salad as well as a green salad.
For the keynote speech, Dawn Blatner spoke on her lifestyle and book 'The Flexitarian Diet'. After doing meatless May, I have to say that I see this more of the eating plan that we are headed towards. Being a flexitarian means eating a diet mostly consisting of plant-based proteins and less meat.
Dawn shared a large selection of meat substitutions and with her personality, I am rather confident that she could charm anyone into doing just about anything. In fact, I am going to see if I can set a date to Bungee Jump with her as I think she could talk me into it.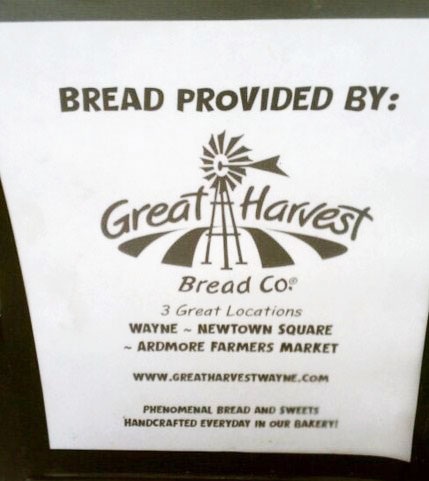 Now here is the fun story: Almost every other minute of conversation during lunch and in the hallway, I heard someone talking about 'Lulu Lemon'. When there was a raffle for gift certificate for 'Lulu Lemon' people swooned. When the runners in the group talked about jogging bras, they mentioned 'Lulu Lemon'.
During one of the latter conversations, I piped up and said 'I want to get a 'Ta Ta Tamer'.  A young lady said "yes, from from Lulu Lemon.' I said 'I have never heard of that store – I want to get the a 'Ta Ta Tamer' from 'Lu-lu-le-mon' (hard to type a pronunciation but sounds like I am saying it Lulu (the name) + le (french for the) + mon)
She said 'Where?' I replied 'Lu-lu-le-mon'. A confused stare was issued and she departed with a slight smile. A moment later, I pulled up the website on my phone and then realized that we were talking about the same store. But how could that be? I decided that the others did not know how to pronounce the name.
To resolve the situation for good and get myself a sports bra, I decided to walk the half-mile to the store.  I walked into the store after staring at the signage out front and knew for a fact, I was correct about how to pronounce the name of the store.
When a lovely lady greeted me inside the store, I leaned over closer and said 'Believe it or not, there are a bunch of women at a conference today calling your store 'Lulu Lemon''. She looked at me with a 'Are you dumb lady?' look and said 'We are called Lulu Lemon'. I said 'The name on the store does not say Lulu Lemon, it says 'Lu-lu-le-mon'.
She stared. The edges of lips titled downward. I waited for her to lift her arm and point to the door in a gesture for me to leave but after a few seconds of torture, I walked to the back of the store, head hung in embarrassment. Alas, I did find my Ta Ta Tamer and a purty headband to match (not that I will be showing off the Ta Ta Tamer) but have not recovered my pride. Ha!
After returning from the store, there was a snack break at the Healthy Living Summit. The snack consisted of Quaker rice cakes and Naturally Nutty spreads. Naturally Nutty seems like a good name for something I would create.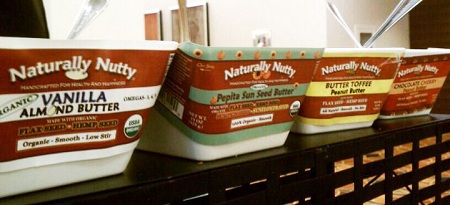 After the last session, I headed straight home on the train and kissed my sleeping babies heads.
'p.s. Would you be at all intrigued if I started a Podcast on let's say 'healthy food options?' or say, 'healthy food for the family' or really, anything at all?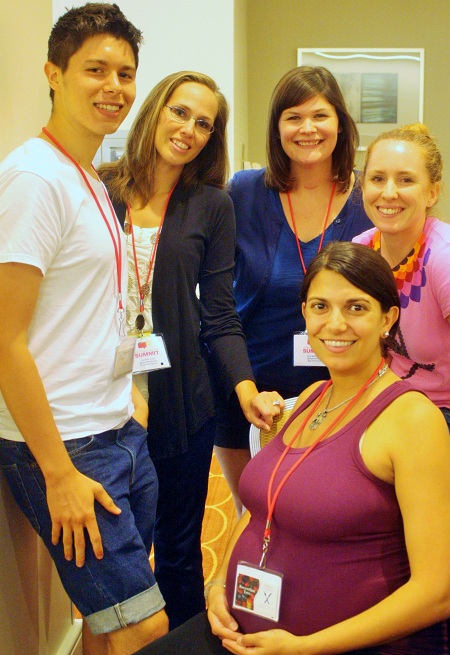 Check out the handsome bloggers representing Rhode Island at HLS! From left to right: Evan, Myself, Erin, Heather and Sabrina