It's not all about kids you know.
I like to make dishes just for my man sometimes.
My hubby works at home as well and so I made us a fun breakfast the other day.
Now that both kids are in school, I have been trying to get my hubby into the habit of going to the gym with me once they are in school.
To celebrate day 1, I made him this fun recipe – heck, most men would be thrilled to hear 'I am making you some bacon if you go to the gym with me'
I left out the fact that it would only be a few bits paired with tomatoes and mozzarella, a naturally low fat cheese.
The inspiration for this recipe came from my bloggy pal Jessica but decided to 'beef' it up a bit for my man. Grrrr….
smashing the potatoes is rather therapeutic peeps….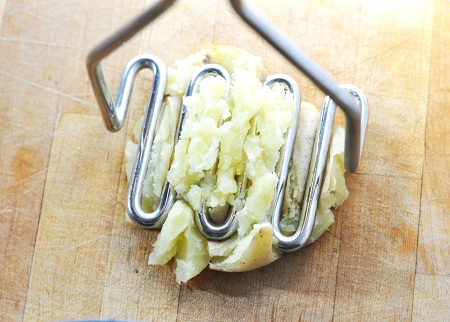 drop them into the ramekins…..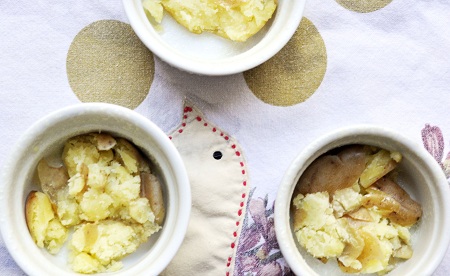 decorate them with tomatoes, mozzerella and basil….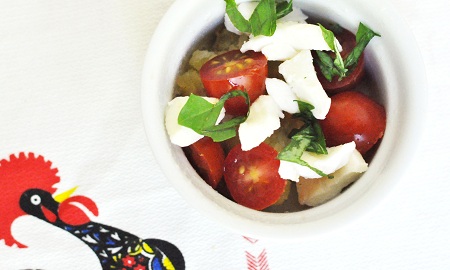 add the egg and bake….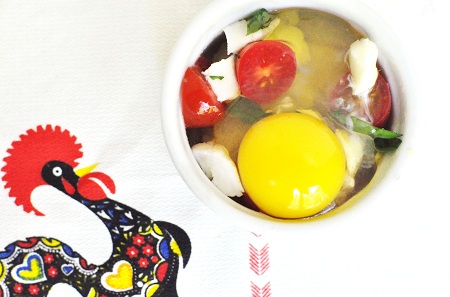 Baked Potato Caprese Breakfast Egg Cups (yield: 4)
adapted from How Sweet It Is
Ingredients:
4 small baby potatoes, microwaved and smashed
4 organic eggs
12 organic grape tomatoes, halved
2-3 ounces of mozzarella cheese, roughly chopped
4 fresh basil leaves, chopped
8 teaspoons 1% milk
salt and pepper
butter cooking spray
4 ramekins
Directions:
1. Preheat oven to 350 degrees F.
2. Place the 4 baby potatoes in a microwave safe bowl and microwave on high for 4 minutes. If the potatoes are not easy to pierce, microwave 1 more minute. Using a potato masher (or cup) smash each potato. Whack!
3. Spray each ramekin with butter spray and place one potato in each ramekin. Top with half of the pieces of tomato, cheese and basil and one egg.
4.  Add 2 teaspoon of milk to each ramekin. Top with the remaining tomatoes, cheese and basil on top and set on a baking sheet. Bake for 6 minutes, then turn on the broiler. Move the baking sheet to the bottom rack and broil for 4-5 minutes depending on how set you like your eggs.