Are you ready for another one of my earth-shattering public statements?
I find it completely unacceptable that lightly hitting your elbow against your pretty kitchen aid mixer should hurt THAT much. Ouch!
And result in a bruise.
Who in their right mind would call it a funny bone? Luckily, I had 'Boo-Boo Ellie' to help out.
No, you can't see what  'Boo-Boo Ellie' looks like.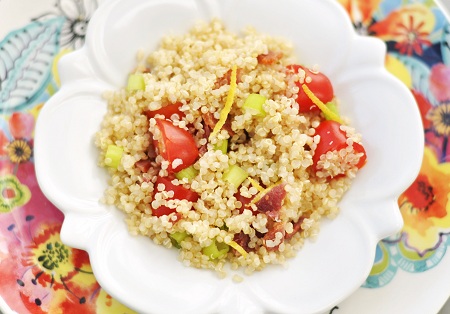 BLT (Bacon, Lemon & Tomato) Quinoa Salad
Ingredients:
1 cup cooked quinoa
2 slices of cooked bacon, chopped
5 organic grape tomatoes, sliced in 1/2
1 organic scallion, chopped
1 teaspoon lemon juice
1 teaspoon red wine vinegar
lemon rind, optional
salt and ground black pepper, optional
Directions:
1. Cook the quinoa and bacon. Meanwhile, prepare the tomatoes and scallion and set aside.
2. Chop the bacon and add to the tomatoes and scallions. Add the quinoa, lemon juice and vinegar and toss well.
Do you prefer pork or turkey bacon?
Did you enter the whole grain sweepstakes yet?