Last Friday was super duper fun:
*We played.
*Hosted a friend with no internet (yes, still thanks to Irene).
*Made the treats that I share below.
*Hosted two little friends for dinner and to play while I took their mommy out for her birthday (thank you to my husband).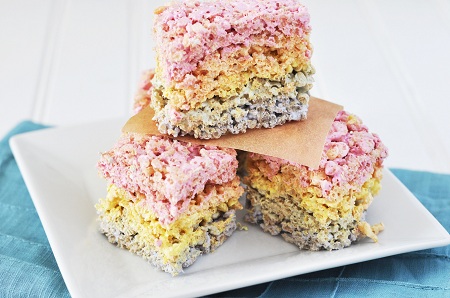 You already know I love using the gluten free brown rice cereal for crispy treats but have yet to make marshmallow treats using them. Plus, at my first jaunt to Whole Foods last week, I bought a container of Simply Vanilla Marshmallow Creme as well as some all natural food coloring* (that cost me an arm, a leg and a good portion of my other arm).
My daughter had fun mixing the marshmallow with the cereal and experimenting with making secondary colors. We waited patiently while I refrigerated them a bit and then we dug in…..after they waited for me to take photos.
For dinner, I took my friend to Chipotle (yummy vegetable bowl) because we needed some good food quickly as we needed to get to Anthropologie ASAP.
We made a bee-line straight to the sale section and not only did I score an $80 shirt for $8.50 but I picked up 2 plates and a napkin on sale. You will be seeing those in photos soon.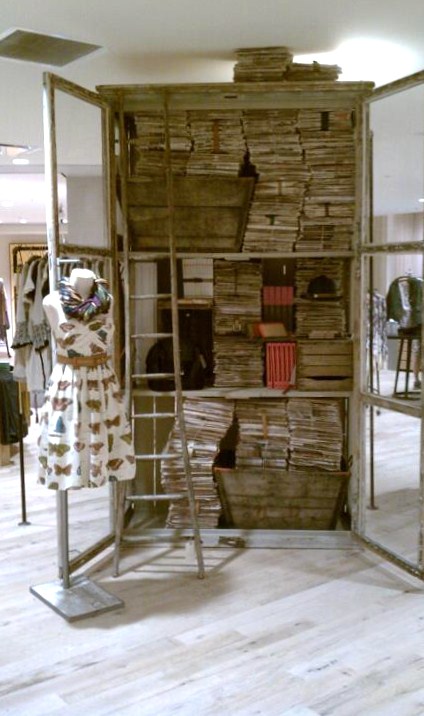 Natural Rainbow Marshmallow Brown Rice Crispy Treats (yield: varies depending on how large you cut them: we made 12)
Ingredients:
3 Tablespoons unsalted butter
7 oz. container of Tiny Trapeze Simply Vanilla Marshmallow Creme
1 teaspoon clear almond extract
5 cups of Attune Brown Rice cereal
food coloring (India Tree brand)
cooking spray
Directions:
1. In large saucepan melt the butter over low heat. Add the marshmallow creame and stir until completely melted. Add the almond extract and stir well. Keep the mixture over very low heat
2. Place a few drops (depending on the color you hope to acheive) into a bowl and mix well with 6 tablespoons of the marshmallow mixture. Add 1 cup of cereal and mix well.
3. Spritz a spatula with butter cooking spray and use it to evenly distribute the mixture into 8 x 8 pan lightly coated with cooking spray. Repeat for 4 more colors, layering on color upon the other. Allow to cool and then cut into squares.
Please note that this is best if served the same day or else you will have stale marshmallow treats…which aren't a great treat.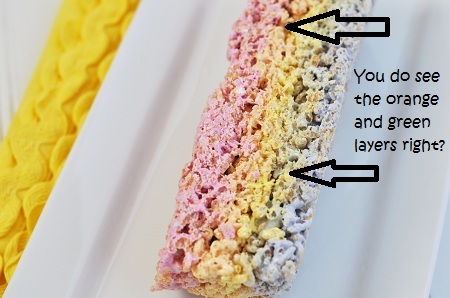 *The red and blue food colorings turned out pink and purple-ish but did darken a bit over time.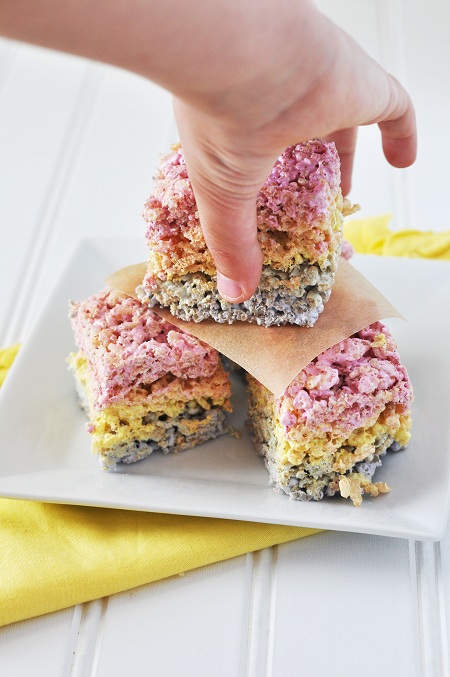 Lucky for us there were some treats left when we came home.
Have you ever been to Anthropologie?