I like to surprise people once in a while. Fun little surprises put a smile on everyone's face unless it is something really embarrassing.
Nothing to be embarrassed about here because the surprise is: The 10 things feature is now going to also feature a recipe! Hooray for surprises! This week features Julie from Mommie Cooks and a treasured family recipe.
Without further ado, 10 Things You Didn't Know About Julie from Mommie Cooks……

1. I spent a summer in Northern California caving and studying Mexican Freetail bats.
2. I owned a small business with a friend for a little over a year marketing and selling handmade baby carriers.
3. I despise olives in any shape or form.
4. It's my dream to one day go to culinary school.
5. Two of my three children were born at home.
6. I studied in Amsterdam for 6 months during my junior year in college.
7. I speak (or at least I did back in the day) fairly decent Dutch as well as Spanish.
8. My brother and I applied for Season 3 of the Amazing Race.  Needless to say we didn't get selected.
9. I am a closet reality tv junkie.
10. I love long road trips, even with the kids in tow (yes I'm weird).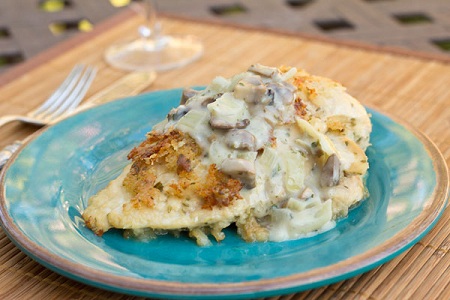 Cordon Bleu is one of those dishes that instantly takes me back to my childhood days.  My family spent all their vacations up in Northern Wisconsin at my grandparents cottage on Rest Lake.  We enjoyed summers frolicking in the water and digging never-ending holes to China, and winters planting our tip-ups on the iced over lake in the hopes of catching that one lucky fish.  Whenever we arrived home from our outdoor expeditions, my grandmother would put together a meal for us of chicken cordon bleu with creamy mushroom gravy.  I always remember thinking it was the best dish I'd ever tasted.
Chicken Cordon Bleu with Creamy Mushroom Gravy.
Ingredients:
For the Chicken:
4 Chicken Breasts
1/4 Pound Gruyere Cheese, Sliced
4 Ounces Ham (I used Pancetta)
3/4 Cup Panko Bread Crumbs
1 tsp Tarragon
2 Tbsp Cooking Oil
For the Mushroom Sauce:
2 Tbsp Butter
5 Ounces Mushrooms, Chopped
2 Cloves Garlic, Minced
1/2 Onion, Chopped
1/2 tsp Tarragon
1/4 tsp Salt
1 Tbsp Flour
1/4 Cup White Wine
1/2 Cup Chicken Broth
1/4 Cup Half & Half
1 Tbsp Fresh Parsley, Chopped
Directions:
1. Slice the chicken breast down the middle to form a pocket in the chicken. Add in your cheese slices and ham. Close chicken up with either toothpicks or kitchen twine.
2. Mix together the panko and the tarragon. Roll the breasts in the mixture.
Heat a large pan on medium high heat and add in the oil. When the oil is heated, add in your breasts and cook for a minute or two on each side.
Place breasts in an oven preheated to 350 degrees and cook for 25-30 minutes or until juices run clear.
3. While chicken is cooking, grab up a large saute pan, add the butter and melt it on medium heat. Add in the mushrooms and cook for a minute or two.
Add in the garlic, onion, tarragon, and salt and cook for an additional 2 to 3 minutes. Add in the flour and stir to coat. Add in the wine and chicken broth and allow the sauce to heat back up and thicken.
4. Once thickened, remove from heat and stir in the half & half and fresh parsley. Add additional salt if needed.
Pour over cordon bleu and serve.
Be sure to stop by Mommie Cooks and tell Julie that I sent you!