Did you know that girls may have more clothes but boys create more laundry? I am certain this is true based on both my experience and the number of folks who gave an 'Amen' on Facebook.
Some other comments I received were:
*Word.
*I SWEAR it's dirty as soon as I hang it. They just have to walk by.
*Imagine 4 of them.
*So true!!
*Don't I know it!
*Agree 100%..I have two girls and one boy and my son creates more than half the laundry in our house
*Try having THREE!!!!!!!!
Why am I telling you this? Well, I am not sure but let's see what I can come up with………………Oh! because purple potatoes make purple juice when you cut them and it might stain. Convincing?
You know we are already purple potato fans (recall the video?) so when Dole asked me to create a healthy purple potato recipe I was all like 'You were reading my mind fabulous peeps from Dole'. Sign up for the Dole newsletter and grab yourself some more healthy recipes!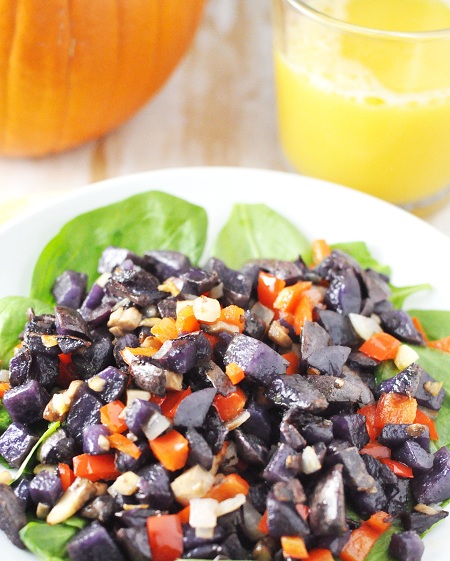 Purple Potato Hash (Serves 2)
Ingredients:
2 tablespoon olive oil
1/3 lb petite purple potatoes, diced
2-3 tablespoons finely chopped sweet onion
2 cloves garlic, chopped
1/3 red pepper, chopped
1/3 cup chopped baby bella mushrooms
Salt and ground black pepper, to taste
½ cup baby spinach leaves, optional
Directions:
1. Heat the olive oil over medium to medium-low heat, add potatoes and sauté 5-7 minutes, stirring often.
2. Add the onion and garlic and sauté 2 minutes. Now add the red peppers and sauté for an additional 2 minutes.
3. Finally, add the mushrooms 2 minutes. Season with salt and pepper if necessary and serve with baby spinach.