When I told you that I loved the Mako Shark that I ate this past weekend, I did not include information about the amazing mashed potatoes that came with the meal. The recipe below is not the type of mashed potatoes I had however, it reminded me how much I enjoy mashed potatoes during the cooler weather.
This recipe is also a great way to incorporate more than one vegetable in a dish and quite possibly a veggies that is not your favorite. Meaning, if you are not a huge carrot lover but want the nutrients from it, than this will work for you.
Yes, it is a creamy mashed potato because if it wasn't, my family would throw it at me instead of eating it. Not kidding.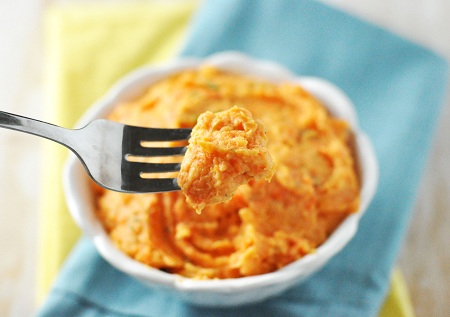 Quick & Creamy Mashed Sweet Potatoes & Carrots with Dill (Yield = 4)
Ingredients:
2 large sweet potatoes, peeled and cut into 1/2 inch cubes
2-3 large carrots, peeled and cut into 1 inch cubes
1/3 cup half and half
1 tablespoon milk, optional (I used 1%)
1 tablespoon of fresh dill (or your favorite herb)
salt & pepper, to taste
Directions:
1. Prepare the sweet potatoes and carrots and place them in a microwave safe bowl. Cover them with plastic wrap, make a small hole in the wrap and microwave them for 6 minutes. Verify they are completely cooked by inserting a knife and if it slides through easily, they are ready.. If necessary, cook for 1 more minute. Drain.
2. Add 1/2 of the half and half to the potatoes and carrots and using a beater, combine. Now add the remaining half and half and beat until smooth. Season, mix well and if you want more liquid, add milk (or half-n-half if you wish), one teaspoon at a time.
3. Once the desired consistency has been achieved, mix in the dill and serve.