This past Tuesday, my friend 'K' took our girls to gymnastics and dropped off her son to hang with my son. At first the boys wanted to spend time with me but after 30 minutes of them ignoring me, I decided to go 'play' in the kitchen.
I had red potatoes, turkey cutlets and a some leftover Chickpea, Roasted Pumpkin Seed & Feta Salad so went to work creating a dinner as I realized that all the girls would be hungry when they got back.
You don't mind that I added bacon do you?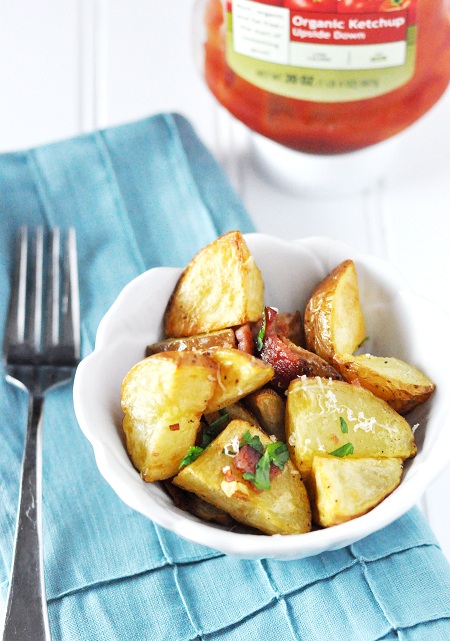 Roasted Red Potatoes with Bacon, Garlic & Parmesan (yield: min. 8 side dish)
Ingredients:
3 pounds red skinned gold potatoes ('baby' or about 2 inches wide)
4-6 slices Uncured bacon, cooked, halved lengthwise and chopped
2 tablespoons olive oil
3 garlic cloves, roughly chopped
salt and ground black pepper
Fresh grated Parmesan cheese
1/4 cup chopped flat-leaf parsley, minced
Directions:
1. Preheat the oven to 400 degrees. Cut the potatoes into 1 inch chunks and place in a bowl. Toss with the olive oil, salt and pepper and scatter over the baking sheet covered with parchment paper.
2. Place a cooking rack in a baking sheet and evenly space the bacon on the rack.
3. Place the bacon on the lowest rack and the potatoes above it and bake. Being with 3 minutes increments watching the bacon carefully. Remove the bacon when cooked to your liking.
4. After the potatoes have baked for 20 minutes, add the garlic to them, toss and bake another 5 minutes.
5. Remove the potatoes and place them in a large bowl. Grate fresh Parmesan over the potatoes and scatter the parsley and bacon on top.