Wow, I have missed you. I was so gosh darn busy the past few days that I neglected to share a '10 Things' post on Friday. Plus, this '10 Things' is so special because it is about my friend Kelsey.
Kelsey and I started our blogs at just about the same time and have grown to be great friends. I have been lucky enough to travel with Kelsey, work with Kelsey, play with her sweet daughter and am super excited to see her success. In fact, her cookbook 'The Naptime Chef: fitting great food into family life ' with be released in March 2012 so keep an eye out for it or go ahead and pre-order it.
Without further ado, 10 Things You Didn't Know About Me with Kelsey of The Naptime Chef….

1. My favorite movie is Thunderball. I own every single James Bond movie and watch them regularly. Sean Connery is my favorite. In another life I'd love to be a spy.
2. I played the trumpet and piano from kindergarten through college. I am a good musician. If I could change anything about myself I would have a great singing voice so I could sing when I play the piano.
3. I am fascinated with Scottish history because my family is from Knap (no joke). I even spent a semester at University of St. Andrew's (pre-Prince William) and traveled the whole country touring historical churches and battlefields. My father and brother both wore full Scottish formal kilt attire in MacMillan plaids to my wedding.
4. I am addicted to books. I don't own a kindle or anything like that because I like to turn the actual pages. My fantasy living room has floor to ceiling bookshelves with all my favorites where my daughter can pick whatever she wants whenever she wants and read to her heart's content. I will start reading her the Harry Potter books very soon.
5. I can fall asleep just about anywhere.
6. I grew up in Cooperstown NY and could see the Baseball Hall of Fame from my bedroom window growing up. Most baseball fans find that completely awesome.
7. At least three times a day I fantasize about moving my family to Italy and spending a year learning everything I can about Italian cooking. (Wouldn't "Naptime in Italy" be a great book?!)
8. My first internship was at a Belgian beer brewery. I know A LOT about Belgian beer.
9. I am really into astrology and want to take a class in how to read charts some day. I am a classic Virgo (with Cancer rising)
10. My dream car is a convertible black bathtub Porsche.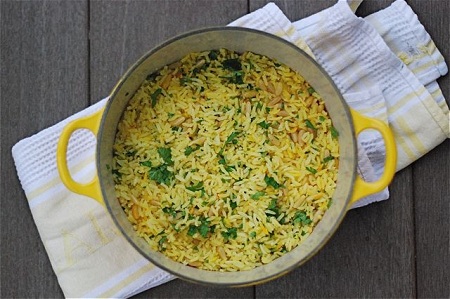 Fall Baked Saffron Rice
Ingredients
2 teaspoons olive oil
1 cup white rice (jasmine or texmati are my fave)
2 cups chicken stock, room temperature
1 large pinch saffron threads (about 4 or 5 threads)
1/3 cup pine nuts, lightly toasted
1/4 cup finely minced parsley
Directions
1. Preheat the oven to 350F.
2. Warm the olive oil in a heavy bottom oven proof pot and add the rice. Toast the rice for about 2 to 3 minutes or until it turns lightly golden. Carefully pour in the chicken stock – it will sputter – and stir in the pine nuts and saffron.
3. Place the lid on the pot and shove it in the oven to bake for about 30 minutes, or until the rice is steamed through. Keep the lid on the pot until you are ready to serve. Stir in the parsley immediately before serving and scoop onto plates.
Be sure to stop by The Naptime Chef and tell Kelsey that I sent you!