Sometimes life hands you lemons. Instead of making lemonade, I decided to make a edamame-corn relish.
We had planned on being in Portland, Maine from Saturday afternoon until very late Sunday night but then the call came letting us know that a family member passed and there would be services Sunday afternoon and Monday.
Monday came and presented itself with a sick child, one to get to school and a husband to send off to a funeral. During the mid-afternoon, my husband called to say he would be home soon and was exhausted. I realized I needed to make dinner and needed to make it snappy. Instead of simply presenting a boring piece of fish, I opened the fridge doors and gave myself five minutes to make some sort of relish to serve over the fish.
A quick scan revealed: edamame, leftover cooked corn, a small piece of red pepper, onion and chopped chilies. I could do this and it would be good.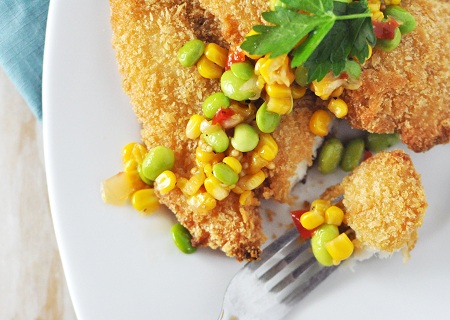 Don't worry about measurements: just chop, mix, squeeze, whatever.
Edamame Corn Relish Recipe (Yield: topping for 4 pieces of fish)
Ingredients:
1/4 cup corn, cooked and cooled
1/3 cup edamame, ready to eat shelled (Trader Joe's)
2-3 tablespoons minced red pepper
1 tablespoon minced sweet onion
1 teaspoon green chilies, diced (from can)
A few splashes of lemon juice
A few splashes of rice wine vinegar (or any light vinegar like red wine vinegar)
Directions:
Prepare all of the ingredients, toss well and top the fish (or really, even chicken would be great).
Are you an edamame fan?