I am a bit obsessed. Okay, I am more than a bit obsessed….maybe we should call it an infatuation.
I am infatuated with two things, one of which may get me evicted from this house: The song 'Good Feeling' by Flo Rida and the Quick Preheat feature on the Frigidaire Symmetry Double Oven.
No, the oven part is not what is going to get me kicked out of here, but my incessant playing of the song just might though. I created 6 recipes yesterday and while the ovens were working hard, I was playing the song over and over.
At any rate, don't you love the idea of not waiting 15 minutes for the oven to preheat to 350 degrees? I recall that as soon as I read the Quick Preheat feature 'preheats the oven in just four minutes', my mouth opened. Yes, close your mouth as you did just read that correctly: preheats to 350 degrees in 4 minutes!
I know what you are thinking now: yes, some recipes do require a higher temperature so I cheat and increase the temp. after the 4 minutes (don't tell anyone). As an example, this recipe required 425 degrees so I simply increased the temperature after 350 was reached. Nice!
Speaking of nice, this recipe was a nice way to use up the leftover butternut squash I had roasted for dinner the previous evening.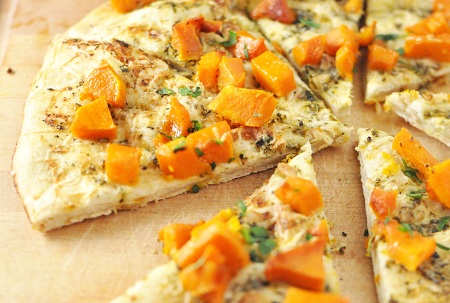 Roasted Butternut Squash & Pesto Flatbread Pizza (Yield:6-8 slices)
Ingredients:
1 precooked pizza shell (I used Trader Joe's Ciabatta Flatbread)
2 tablespoons pesto (seriously, try pumpkin seed pesto)
1.5-2 cups cooked, cubed butternut squash
3/4 cup grated Parmesan cheese
1/4 cup fresh parsley, minced (optional)
Directions:
1. Preheat the oven as instructed on the pizza crust package.
2. Spread the pesto evenly over the pizza crust followed by the Parmesan cheese.
3. Distribute the squash all over the pizza and bake as specified on the pizza crust package. Garnish with parsley.
Disclosure: I wrote this review while participating in a Test Drive Campaign by Frigidaire and received a Frigidaire Range to facilitate my review.