I am holding a 3-pound bouncing baby….this baby has a name. Want to hear it?
The name is 'The Macy's Culinary Council Thanksgiving & Holiday Cookbook'. I know, the middle name is a bit long but I like things that are unique.
What makes it this cookbook unique you ask? Well, I will tell you: amazing behind the scenes stories and photos of the Macy's Thanksgiving day parade, amazing Holiday inspired recipes and tips (leftovers, cookie exchange, Hanukkah and more) from 13 of your favorite celebrity chefs (Emeril, Wolfgang Puck, Cat Cora, Rick Bayless and more) and yes, photos of just about every recipe.
If you have a foodie and/or Macy's Parade enthusiast in your life, this is a great gift idea!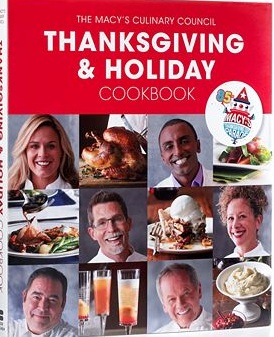 One recipe that jumped right out at me was the Sicilian Waldorf Turkey Salad Sandwich by Nancy Silverton because I am already thinking about Thanksgiving leftovers.
Sicilian Waldorf Turkey Salad Sandwich (Makes 4 Sandwiches)
Ingredients:
1/2 cup pine nuts
1 1/2 pounds roasted turkey, meat shredded and skin and bones discarded (3 to 4 cups)
1 celery stalk, peeled and cut into 1/4-inch dice
1/2 cup dried currants
1/4 cup finely chopped fresh flat-leaf parsley
2-3 tablespoons fresh lemon juice
kosher salt and freshly cracked black pepper
8 slices Whole Grain bread, about 1/2 inch thick
Directions:
1. Preheat oven to 325 degrees F
2. Spread the pine nuts on a rimmed baking sheet, place in the over, and toast, shaking the pan occasionally, until lightly browned, about 8 minutes. Remove from the oven and let cool.
3. In a large bowl, mix together the turkey and 1/2 to 3/4 cup of the mayonnaise to taste. Add the toasted pine nuts, celery, currants, parsley, and 2 tablespoons of the lemon juice and mix to combine evenly. Add more mayonnaise if needed to coat the turkey well. Season with salt and pepper, then taste and adjust with more lemon juice if needed.
4. Spread one side of half of the bread slices with 1 to 2 tablespoons of the mayonnaise. Divide the turkey salad evenly among the mayonnaise-topped bread slices. Top each sandwich with second slice of bread, then cut the sandwiches in half on the diagonal to serve.
Mustard Mayonnaise
1 cup mayonnaise
2 tablespoons extra virgin olive oil
1 1/2 teaspoons Dijon mustard, or more to taste
1 tablespoon fresh lemon juice, or more to taste
Kosher salt
For the mustard mayonnaise: In a small bowl, stir together the mayo, olive oil, mustard, lemon juice and a pinch of salt. Taste and adjust the seasoning with more lemon juice, mustard, and/or salt if needed. Set aside.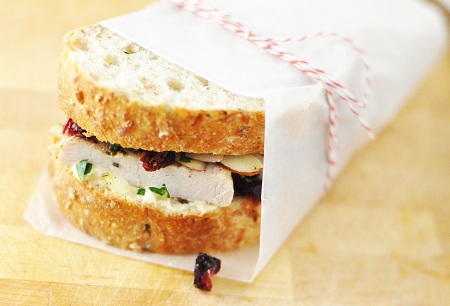 Disclosure: The lovely folks at Everywhere Society covered the costs of the food and my time cooking, styling, editing photos and writing. Fancy that.