This year my husband's family will be throwing a big New Years Eve bash and you can count on two things: there will be a huge dessert table and about 18,000 codfish balls.  This year my husband and I decided we are going to wow them with our newly developed variation of the codfish ball: The Salmon Ball Croquette.
In the middle of this team effort, I asked my husband what else we could do to make our croquettes stand out and he said, 'let's make a sauce for them' so I made a quick & easy peasy dip.
During the development of this recipe, I fell in love (kinda already adored it anyway) the quick boil feature on my Frigidaire Symmetry Double Oven. I had pulled the Salmon out of the oven when my husband asked if I had already boiled the potatoes. 'Oops, I will get those done right away' I said and so I sat a large pot of water on the quick boil burner, set the SpaceWise® Expandable element for the large pot and within a few minutes I had a rapid boil going. Dreamy!
I have placed similar pots on two different burners to compare and yup,the quick boil definitely saves you time! I bet a smart mom or a man who likes his meals quickly thought up that feature.

Salmon Ball Croquettes with Herb Sauce (Yield 18 croquettes)
Ingredients
12 oz salmon, baked, skinned and flaked
1 pound russet potatoes, scrubbed, peeled, boiled and flaked
2 cloves garlic, minced
1 tsp chopped dill
1 tsp chopped cilantro
1 tablespoon chopped parsley
1 tbsp chopped chives
3 egg yolks, beaten
Vegetable oil, for frying
1/4 teaspoon salt
1/4 teaspoon ground black pepper
herb sauce, recipe follows
Directions:
1. Bake the Salmon, allow to cook and flake. Concurrently, boil the potatoes until easily pierced with a knife.
2. In a large bowl, combine the salmon, potato, garlic, herbs, egg yolks, and salt and pepper. Refrigerate for a minimum of 1 hour.
3. Using a heaping tablespoon of the salmon mixture into your hands and shape into a ovalish croquette. Repeat until you have used all the mixture.
4. Pour enough oil into the large heavy pot to just cover the croquettes (eyeball it) and allow to heat to 300-325 degrees. I then cooked 6 croquettes at a time, gently moving them around about every minute. Allow them to cook until they are a medium-dark brown.
5. Using a spider or slotted metal spoon, remove them carefully onto a paper towel lined plate and season with salt. Repeat until all croquettes are cooked.
Herb Sauce (Yield: for lightly dipping 18 croquettes)
Ingredients:
1/3 cup light sour cream
2 tablespoons lemon juice
1 tablespoon fresh herbs
salt and pepper to taste
Directions:
Mix all ingredients and enjoy.
We have to toss out some love to Portugal!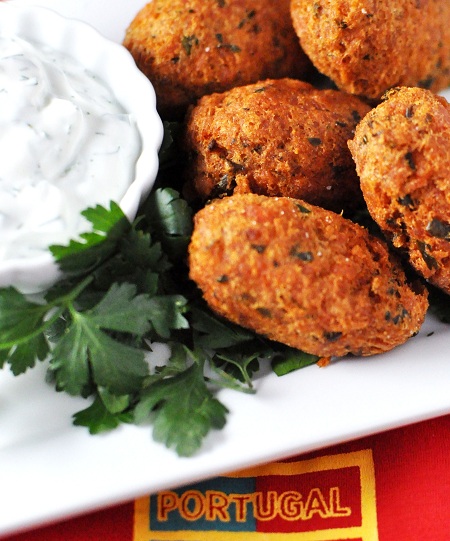 oh what now? 'Jen, those are fattening!', 'Jen, you fried them?!' okay fine, here is how you bake them.
Baked Salmon Ball Croquettes with Herb Sauce
Ingredients:
same as above
Directions:
1. Follow steps 1- 3.
2. Preheat the oven to 400 degrees Fahrenheit.
3. Place a cooling rack inside of a baking sheet and lightly spray with non-stick cooking spray.
4. Place the croquettes on the rack and bake for 25 minutes or until browned.
5. Enjoy with the sauce above.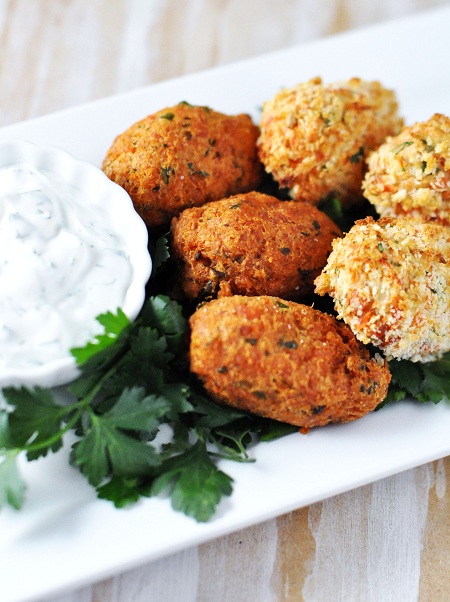 Can you spot the fried versus the baked? both are great but yes, the fried are more crispy. Sigh.
Disclosure: I wrote this review while participating in a Test Drive Campaign by Frigidaire and received a Frigidaire Range to facilitate my review.