I am sitting at my kitchen table with a hot coffee waiting for you to tell me. You know what I am talking about; tell me about your favorite Christmas gift you received. Go ahead, brag and don't worry, I won't tell your aunt that you will never wear that sweater.
While you are thinking about it, I will tell you about the sweet potato pseudo-fries. It is a simple yet nutrient packed recipe and is dang tootin good! Yes, dang tootin I said.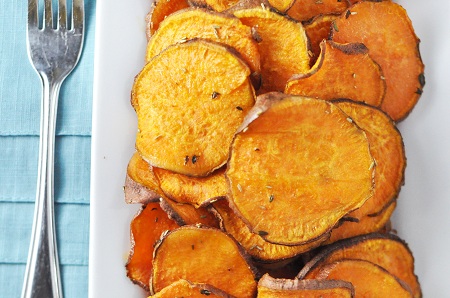 Baked Sweet Potato Fries (servings vary based on appetite)
Ingredients:
A few large sweet potatoes
olive oil
crushed rosemary
fresh thyme, chopped
garlic powder
sea salt
Directions:
1. Preheat the oven to 375 degrees. Place a cooking rack on a baking sheet (you will need about 1 set up per large potato)
2. Wash and dry the potatoes and then, using a mandolin, slice them between 1/4 and 1/8 inch thick.
3. In two separate batches, toss them with a bit of olive oil (I don't measure, I just drizzle it, toss and add more if need be), toss well and then sprinkle with rosemary, thyme, garlic powder and salt.
4. Place the potato slices, in a single layer on the cooling rack. Bake for 20-30 minutes depending on how 'done' and/or crispy you want the 'fries'.
So share your favorite Christmas gift you received this year?