If you're new here, you may want to subscribe to my tasty updates.

A few weeks ago, I announced that I would be working with Flatout Bread again this Holiday season to produce a series of videos. This past Friday was the finale so I wanted to pop back in and make sure that I shared the titles and link to each video.
I hope you find the tips and recipes in the videos inspirational – let me know!
Healthy Holiday Recipes: Salmon Cake Sliders with Creamy Herb Sauce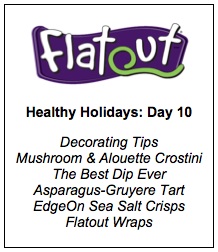 Healthy Holiday Entertaining: Crostini, Dip and Asparagus-Gruyere Tarts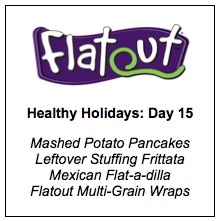 Healthy Holiday Leftovers: Potato Pancakes, Stuffing Frittata and Mexican Flat-a-dilla