Pop Quiz: Who knows what my missions are with this blog? Don't be shy, toss them out there:
*Show parents how to make fun, fast and fresh meals you say? Yes!
*How using real food can be affordable and tasty you say? Yes again!
*How we can all make healthy choices that the family will eat? Yes, Yes, Yes!
Congrats, you are super savvy and smart. Now…..
Flashback to early 2011 and you may recall the fun and rewarding healthy eating campaign with Ziploc. Now it is 2012 and I get to announce a new and a-ma-zing (yes, I am singing) campaign with Ziploc and Rachael Ray called the FreshOver Project! I will be working with Ziploc, along with a few other moms (Mom Generations, This Mama Cooks, Picky Palate and Reluctant Entertainer), and sharing some of our FreshOver Projects on the Ziploc Brand Facebook page.
If that is not exciting enough, it gets better: The Great American FreshOver Project aims to show American families everywhere that eating fresh can be convenient (I told you!). Now, if you know anything about Rachael Ray, you know she is passionate about helping children across the country develop positive attitudes towards eating fresh so during this campaign Rachael Ray will be sharing her tips, recipes and secrets for preparing fresh foods.
In addition, and to me, a key feature of the FreshOver mission that all of us can support, is that Ziploc will be donating to Rachael Ray's non-profit organization – Yum-O! Families can support the cause by "pledging" to start their families FreshOver project by liking the Ziploc brand Facebook page and downloading Rachael's exclusive FreshOver Recipe Guide on Facebook. With every download, up to a maximum of 50,000 downloads, between 1/1/12 and 12/31/13, Ziploc brand will make a $1 donation to Rachael Ray's Yum-O! organization on the fans behalf, for up to a maximum $50,000 donation. To further support Yum-O!, Rachael Ray and Ziploc will donate an additional $200,000 during the same time period, no matter how many guides are downloaded.
To inspire you to start your FreshOver, Ziploc and Rachael Ray are sharing a Broccoli & Cauliflower Gratin Macaroni 'n Cheese recipe that is a perfect example of how to "FreshOver" ordinary meals. And gosh, it is good!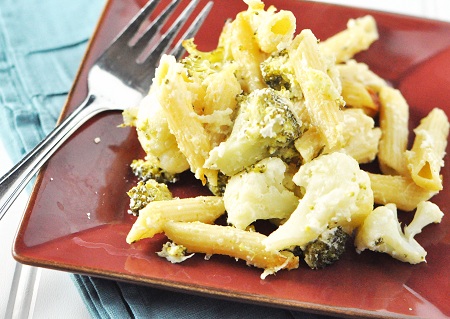 Broccoli and Cauliflower Gratin Mac 'n Cheese (Yield: 6 servings)
TOTAL TIME: 1 hr 20 min
Prep: 20 min, Cook: 1 hr 0 min
Ingredients:
Salt
1 small head or bundle broccoli, trimmed into florets
1 small head cauliflower or half a large head, trimmed and cut into florets
1 pound whole-wheat macaroni or penne or other short cut pasta
2 cups sour cream or reduced-fat sour cream
1 tablespoon Dijon mustard
1/3 cup finely chopped chives
2 cloves garlic, peeled and grated or crushed into paste
A few drops hot sauce
Freshly ground black pepper
2 1/2 cups grated extra-sharp Cheddar
Directions:
1. Bring a large pot of water to a boil over medium heat. Salt the water and add the broccoli and cauliflower florets. Boil the vegetables for 5 minutes, and then remove them with a spider or a strainer and drain. Add the pasta to the water and undercook by about 2 minutes, drain.
2. Meanwhile, combine the sour cream in a large bowl along with the mustard, chives, garlic, hot sauce and salt and pepper, to taste. Add the pasta and cauliflower and 2/3 of the cheese. Stir to combine, then transfer it to a casserole or baking dish like a Ziploc VersaGlass Container and cover with the remaining cheese. Let cool before putting in the refrigerator for a make-ahead meal.
3. To heat and eat, put the Ziploc VersaGlass Container* in the middle of a preheated 375 degree oven and bake it until deeply golden and bubbly, about 40 to 45 minutes. Let cool before serving leftovers.
I hope you follow my FreshOver journey as I go to farmer's markets, try new "freshed over" recipes for my family and incorporate organic, fresh foods into my family's routine.
What are some of your greatest struggles to eating fresh?
*Ziploc VersaGlass Containers are oven-safe at temperatures up to 400 degrees.
Disclosure: I have partnered with Ziploc® and am being compensated for my posts. However, my opinions on the product are my own.