Have I ever told you the story about the time my wrap skirt unwrapped and fell to the floor?
No? I believe as you probably would remember that one. I was 7 or 8 years old so feel a bit of sympathy for me. Here goes the story: My maternal grandmother was a great seamstress and spent many hours of her life stitching clothes for my sister and I. I was craving a trendy wrap skirt so she made for me.
I clearly recall the first day I proudly wore it as I also wore a pair of nylons which made me feel like a real grown-up. At the end of the day of school, I was walking my younger sister and step-brother down the hallway to head for the walk home and I suddenly felt something fall to my feet. I stopped, looked down at my feet and stood there in disbelief.
The item around my feet was my skirt. I stood there for what felt like hours looking at this skirt, afraid to look at what others saw: me standing in nylons and shoes with my skirt at my feet. Embarrassing to say the least! I am sure it was merely seconds until I pulled the skirt up and the went to the girls room to re-wrap the skirt.
From that day forward, I despised my wrap skirt. Can you tell I am pouting?
Now I need some comfort, in the form of vinegary roasted potatoes.
This is an easy way to make your potatoes into a sassy side dish. And who doesn't love sassy? unless we are talking teenagers.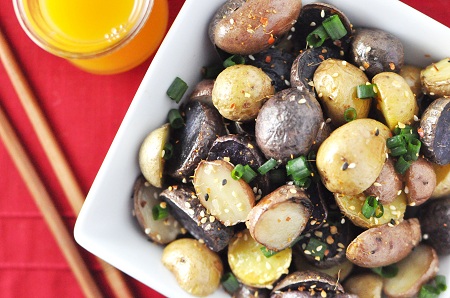 Toasted Sesame and Orange Vinegar Roasted Potatoes (Yield = 4-6)
Ingredients:
1 lb of a medley of baby potatoes (red, white and purple)
2 teaspoon extra virgin olive oil
2 teaspoon toasted sesame oil
1/4 teaspoon sea salt
orange vinegar (I used Trader Joe's orange muskat champagne vinegar)*
a scattering sesame seeds
a handful scallions, chopped
Directions:
1. Preheat the oven to 350 degrees
2. wash and dry the potatoes and cut them in half.
3. Toss the potatoes with the oils and salt and roast for 35-45 minutes. Test doneness by inserting a fork into a potato – you don't want mushy but it should pierce the potato easily.
4. Scatter sesame seeds, scallions and vinegar on the potatoes, toss well and adjust for taste.
*Simply whisk together some orange juice and red wine vinegar instead.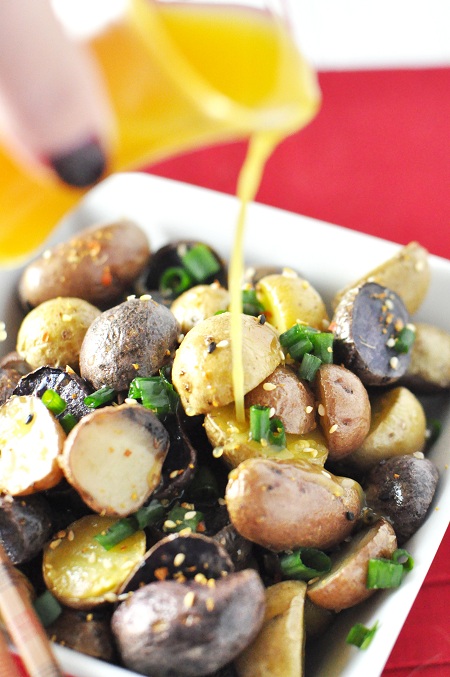 Go on now, go giggle at someone else…..