Ch-ch-ch-ch-changes….Did you notice anything different on this blog? maybe at the top of each post? how about down at the recipe section? whatcha think? likey or no-likey?
Seeing at it is the time of year for making changes, I figured I would make some here on this blog so I added a little box reminding peeps to sign up for the RSS feed/email updates and a handy print 'this feature'.
Another change many try to make this time of year is to their diet so I thought I would whip up a vegan, gluten free, dairy free tasty dish for you….give it a try. Oh, and in case you wanted a bit more protein in the dish, I tossed an egg on top for you but it is totally optional.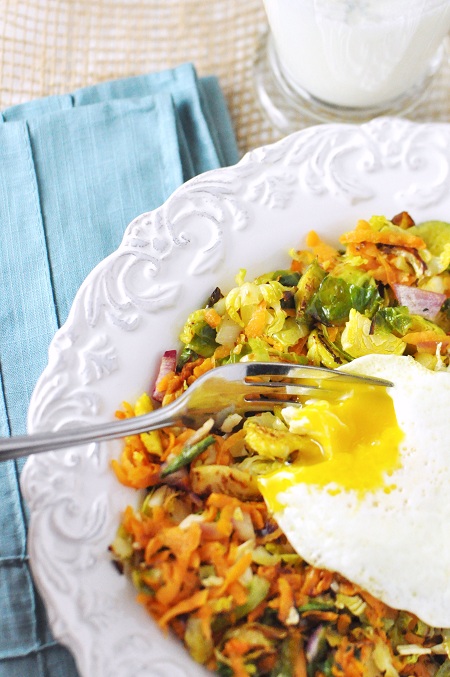 Brussel Sprout Sweet Potato Hash (Serves 2)
Ingredients:
1.5 teaspoons olive oil
5 oz. brussel sprouts, quartered lengthwise
1/2 large sweet potato, grated
1/4 cup red onion, chopped
2 cloves garlic, finely chopped
1 teaspoon fresh thyme
salt, optional
freshly ground black pepper, optional
Directions:
1. Preheat the oil in a large pan over medium heat.
2. Add the brussel sprouts and potatoes and saute for about 10-15 minutes, stirring every 3-4 minutes.
3. Add the onion, garlic and thyme and cook for another 5-10 minutes, stirring occasionally. Taste and season if necessary.
I saved a bite for you, open wide…..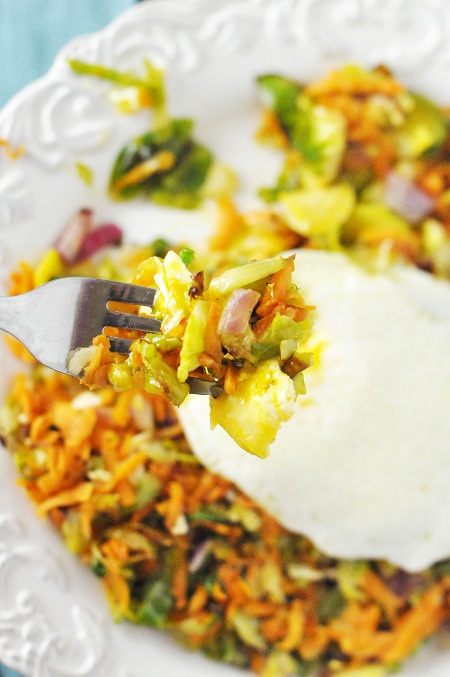 p.s. If you are looking for more on gluten free recipes and lifestyle, come on over to the Udi's gluten free community and join in the conversation.
Do you enjoy brussel sprouts? What is your favorite method of prep?