This is the time of year when everyone and their neighbor is looking for comfort food in the form of a slow cooker meal. And honestly, the idea of tossing some ingredients into a slow cooker aka crock-pot and hours later finding it transformed into a meal is a dream come true! Well, not only am I sharing a great slow cooker recipe below, but there are a ton of delicious blogs sharing their own slow cooker recipes (see below)!
Need to expand your slow cooker recipe repertoire? You are in the right place then because The Naptime Chef & Small Kitchen College are hosting a Slow Cooker Challenge which includes a big giveaway of slow cookers from Delonghi and Breville.
Besides, the chance to win the giveaway items, tomorrow, we'll be slow-cookin' all day on Facebook you can enter to win a second prize-pack of OXO Good Grips kitchen tools by uploading photographs of your slow-cooked meals to The Naptime Chef fanpage, Small Kitchen College fanpage or Big Girls, Small Kitchen fanpage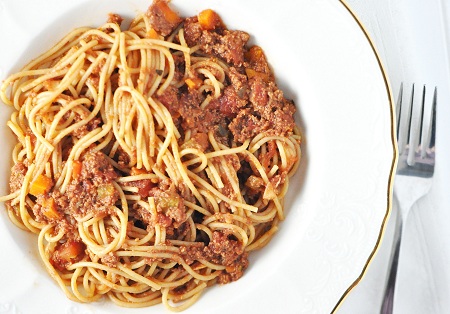 Slow Cooker Bison Bolognese
Ingredients:
1/2-3/4 lb. ground Bison
1 28 oz can of crushed tomatoes (I used Muir Glen organic)
1 14 oz can of whole peeled tomatoes (I used Muir Glen organic)
1/2 medium sweet onion, finely chopped
2 large carrots, finely chopped
2 stalks celery, finely chopped
2 cloves of garlic, chopped
2 tablespoons tomato paste
1/4 cup dry white wine or low-sodium chicken broth
1/2 teaspoon dried oregano
1/2 teaspoon dried thyme
1 pound box of whole grain spaghetti
salt and pepper, to taste
Directions:
1. Turn the slow cooker to high and add bison through thyme, mix well and allow to cook on high for 4 hours or on low for 8. Taste and season with salt and pepper if necessary.
2. When you are ready for your meal, boil the spaghetti according to instructions on the box, top with the bolognese sauce and enjoy!
Here is a list of other participating sites, so plug in the slow cooker and prepare to be dazzled:
FN Dish (The Food Network Blog)
Food52
The Family Dinner
Foodily
Punchfork
The Daily Meal
College Candy
Her Campus
College Lifestyles
Life2PointOh
One Bite At A Time
Mrs. Wheelbarrow
Dinner with Julie
Babble
Momtastic
Families in the Loop
NY Family Magazine
One Hungry Mama
CafeMom
Simple Bites
Gluten is my Bitch
Cookin' Canuck
Food for my Family
Eclectic Recipes
Family Fresh Cooking
Talk Nerdy to Me
The Kids Cook Monday
Early Twenties