Do you recall the 2-ingredient mini cakes that I made for the AFC NFC playoff? I bet you do you sly blog readers. Well, what I did not tell you is that I was inspired to start working on some other Superbowl game-day recipes.
While at my once a month jaunt to Whole Foods, I saw they were featuring pork shoulder on sale and a little filly was out in front, passing out samples (dang those smart marketing/sales peeps) and as soon as I saw the sign for pulled pork, I knew my hubby would jump up and down if I made him some.
I asked the woman what she used in her sauce and she said 'this bottle of BBQ sauce, some apple cider vinegar and agave nectar'. I thought, I am going to concoct my own sauce using vinegar and as soon as I got home I set to work.
By the way, don't be all intimidated by the fancy presentation – I grabbed some too-cute-to-resist microgreens and thought they would add a lovely touch. You go right ahead and toss this pulled pork on a fresh roll.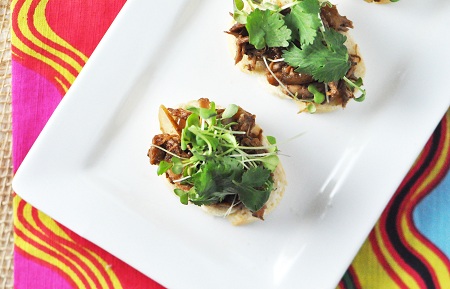 Slow Cooker Balsamic Honey Coffee BBQ Pulled Pork Recipe
Ingredients:
2 ¼ to 2 ½ pound boneless pork shoulder roast
1/2 large sweet onion, sliced
1 clove garlic, thinly sliced
1/2 teaspoon ground black pepper
1/4 teaspoon salt
1 cup balsamic vinegar
1/3 cup honey
4 tablespoons tomato paste
2 tablespoon soy sauce
½ cup coffee
Directions:
1. Place the onion and garlic in the bottom of the slow cooker. trim excess fat off the pork, season it with salt and pepper and place on top of the onion and garlic.
2. Add the remaining ingredients into the slow cooker and set it at 8 hours on low.
3. If you can baste the pork once or twice during cooking. After the 8 hours, Shred the pork, add it back to the slow cooker so marinade in the sauce for a few minutes while you prepare to serve it.
4. Serve it on a roll or sliced bread topped with greens and herbs as I did. Serve with extra napkins.