Don't forget to enter for the pair of Earthies Shoes!
Many people can claim their pancake recipes are the best, the fluffiest, the lightest etc. but how many have had it declared that a recipe is the most famous?
Well, this recipe has been certified 'famous' by a very important citizen in this town. Who you wonder? The very sweet 8 year old daughter of one of my dearest friend, that is who.
So there. Take that to the bank and when you get back, make these pancakes.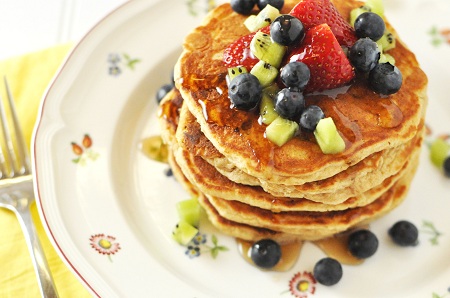 Famous Wheat Germ Pancakes (Yield = approximately 15 4 inch pancakes)
Ingredients:
2 cups of white whole wheat flour
1 tablespoon baking powder
1 tablespoon sugar
1.5 teaspoon salt
1 tablespoon wheat germ
1 large egg
2 cups 1% milk
1 teaspoon vanilla extract
1/2 stick unsalted butter*
1/2 cup unsweetened applesauce
Directions:
1. Combine the flour through the wheat germ in a large bowl.
2. In a separate large bowl, whisk the egg and then combine with the milk through applesauce and whisk well.
3. Fold the 'wet' mixture into the flour mixture, stirring just until moist. STOP, I know you want to keep mixing but don't. Walk away from the bowl.
4. Now you may go ahead and spray the big ole' nonstick skillet with some cooking spray for good measure and heat the skillet over medium heat. Pour 1/4 cup amounts in the pan in 3 or 4 places and stop again. Just watch the batter and once you see all the bubbles start popping up, it is time to flip the pancake.
5. Cook the pancakes a minute or so longer, set aside and repeat. Top with some fruit and a bit of real maple syrup.
*I substituted the applesauce for some of the butter. If you want the recipe in its' original form, use 1 stick of butter.