Seeing that last week offered up a birthday party and Valentine's Day, to say we have indulged in a bit too much sugar would be an understatement. Therefore, I decided to repent by making a quinoa pilaf.
Yes, I said pilaf and no, you will not feel like you are sacrificing flavor. I pinkie promise.
Speaking of repenting and sacrifices, I have been thinking about the upcoming season of Lent. Recall last year's Lent adventures? I am racking my brain thinking about what to 'give up' this year. Stay tuned.
In the meantime, you run off and try this recipe. If you are wondering why I have orange slices in the photo instead of lemon slices, it is because, I did not have any lemon left after I squeezed it into the pilaf. Lesson: take a slice for the photo, then squeeze the remainder into the recipe. Doh!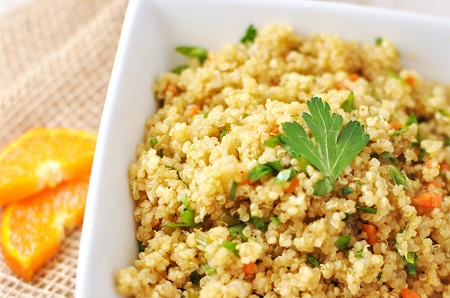 Basic & Simple Vegan Quinoa Pilaf
Ingredients:
2 tablespoons extra-virgin olive oil
1/2 cup chopped sweet onion
1 large clove garlic, chopped
1 carrot, peeled and minced
1 celery rib, washed and finely chopped
1 cup quinoa
2 cups low sodium vegetable broth
A handful lightly packed finely chopped flat-leaf parsley
3 – 4 tablespoons lemon juice
Coarse salt and ground pepper
Directions:
1. Heat the oil in a large skillet over medium heat until the oil is hot. Add the onion, cover with a lid, lower the heat to medium-low and cook the onion about 10 minutes, stirring frequently until soft and almost translucent.
 2. Add the garlic, carrot and celery to the pan for 1 minute, stirring constantly. Add the quinoa, stir for one minute, jack the heat up to high and add in the vegetable broth. Once the broth is boiling, lower the heat to low, cover with lid and all the broth is absorbed. This should take about 15-20 minutes. Do your best to refrain from stirring.
3. Remove the pilaf from the heat, allow to rest a few minutes and then stir in the lemon juice and parsley. Season the pilaf with salt and pepper to taste.