Hello and welcome back to the Newport staycation report. When we left off, we had retired for the evening after a fantastic experience at Perro Salado. When we got up Sunday, we headed to the Hungry Monkey. I mean honestly, there is no way I could not go eat at a restaurant with that name – you know it will be fun!
My husband ordered 'the spider monkey' and I ordered the fruit cup on the side of my filling grits (yes, I put a pat of butter on it).  After devouring our food, we took our full bellies and smiling faces for another drive along Ocean Drive and then headed to the only mansion we have never toured, 'The Elms'.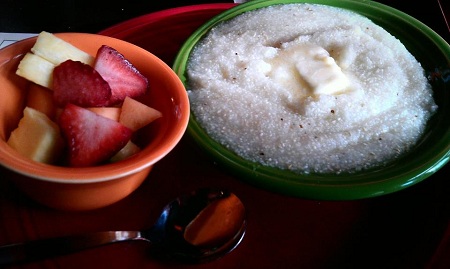 I am always astonished at the opulence and grandeur of these homes: Seeing is believing! After enjoying the mansion tour, we were ready to eat a little something so we headed to the 'White Horse Tavern'. The White Horse Tavern is the oldest tavern in the U.S. and as we experienced, serves the best New England clam chowder!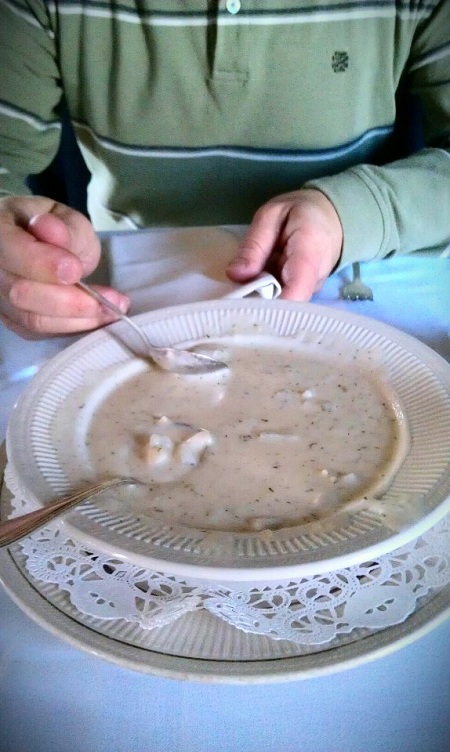 We adored the soup so much, I posted the photo above on my Facebook wall and wrote "Add this to your bucket list: clam chowder at the White Horse Tavern in Newport. Yes, it was that good."
Next up was a tour of the Coastal Extreme Brewing Company, makers of Newport Storm. The tour itself was not so much of a walking around type of tour but more of a look and listen while viewing the facility from above tour.
After that excitement, we decided to go back and relax at The Mill Street Inn for a bit before heading out for a meal at another funky restaurant called Salvation Cafe. When I say funky, I mean it – check out the photos! I ordered the Pad Thai and my husband had the steak special. The low lite dining area made it tough for me to get a good photo on my phone so I am sharing this photo from their website. I highly recommend this place for anyone who wants to great meal in an eclectic atmosphere.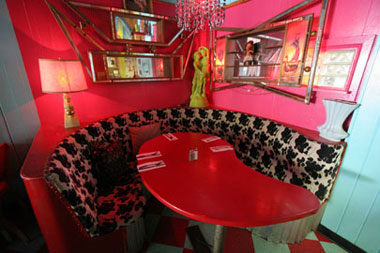 Monday morning quickly arrived and it would soon be time to head home soon so we filled up on a delicious complimentary continental breakfast at the Inn (I'm talking crazy good yogurt, granola, oatmeal, breads, fruit, coffee and more), and then stopped by Purgatory Chasm in Middletown for a romantic ocean viewing.
The best part of a staycation is being able to get to your destination in a short period of time, get to know your state and its' history still be close to home and our young children. Consider Newport for a fun, small town, yet rich in activity history filled vacation, no matter how short the stay may be. Trust me, you will want to come back!
Disclosure: The Newport and Bristol County Convention & Visitors Bureau supplied me with a VIP card to experience some of the tours for free.