Now that we have all been sticking to our New Year's resolution of beginning the "FreshOver" challenge , I want to share a classic but good-for-you-in-every-way recipe from the Ziploc Brand FreshOver Recipe Guide that you will adore during the cold weather.
Rachael Ray's Quick Chick & Noodle Soup recipe is a great family meal because it is so easy to make, you can add organic ingredients and it also includes parsnip so you are getting a boost of Vitamin C, folic acid and fiber. As part of our FreshOver journey, we aim to add a boost of nutrients from seasonal ingredients to each meal.
I am also a fan of incorporating the parsnip into the soup as they are available at the farmer's market as well as the carrots and onions this time of year. That's correct; we now have year-round farmer's markets in the Rhode Island and Connecticut areas so we headed indoors and grabbed ourselves some herbs and vegetables that we used in this soup.
Since the kids already adore chicken noodle soup (who doesn't?), I figured it would be rather easy to get this variation consumed easily and boy was I right! I think I may have heard a 'Yum-O!' once or twice. While the kids and hubby were downing the soup, I informed them that I used a new ingredient in the chicken soup called parsnip – they did not even flinch.
This soup was also a big hit with some friends who were under the weather. When I heard two of my favorite people were not feeling well, I filled up the Ziploc Brand Twist 'n Loc Containers and delivered them some soup. They have loved the soup and the containers because you can remove the lid without splashing and spilling the contents all over you and the counter. Brilliant!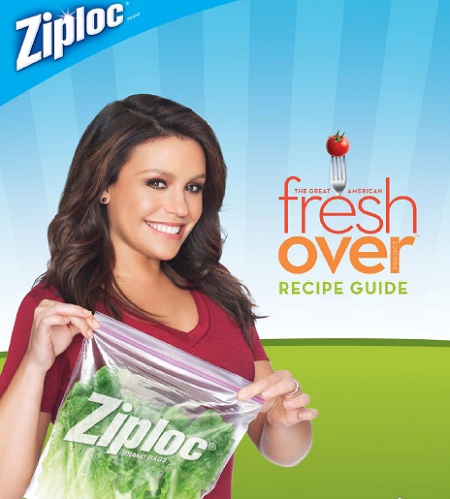 Speaking of love; do you love this FreshOver challenge as much as my family does? Great! I want to make it even more fun by giving away a prize pack! This prize pack will include kitchen gadgets, accessories for trips to a farmer's market or an eating fresh gift pack with Rachael Ray's Look + Cook cookbook, each worth about $120.
To Enter: Answer this question in a comment on this post: Which recipe in the FreshOver Recipe Guide do you want to make next/first?
For additional entries (you must answer the question above & leave an additional comment on this post for each entry. If you don't enter above, the entries below are void):
– Tweet this giveaway, "Win a Prize Pack from #Ziploc from @savorthethyme http://su.pr/1mFSd4 #FreshOver #spon  (Be sure to come back and leave the tweet URL.)
– Subscribe to the Savor the Thyme RSS feed and leave a comment that you did so (yes, I verify).
– Follow @savorthethyme on Twitter
This giveaway will end on Thursday, February 23th at 5:00 pm PT.  The winner will be chosen by random.org and will be contacted by email. The winner must respond within 48 hours or a new winner will be chosen. Click here for the Official Rules.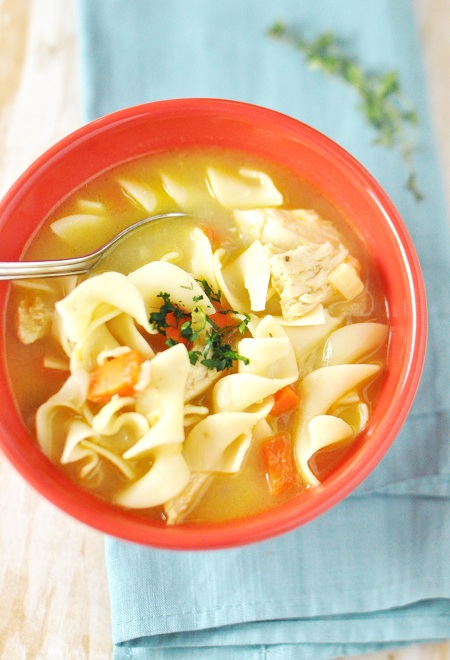 Recipe: Rachael Ray's Quick Chick & Noodle Soup
Recipe prepared by: Jennifer Leal, Photos taken by: Jennifer Leal
Quick Chick & Noodle Soup (Yield: 4 big bowls)
Adapted slightly from Rachael Ray's Quick Chick & Noodle Soup
Ingredients:
2 tablespoons (2 turns around the pan) extra-virgin olive oil
2 medium carrots, peeled and chopped (I use organic)
1 parsnip, peeled and chopped
1 medium onion, chopped
2 ribs celery, chopped (I use organic)
2 bay leaves, fresh or dried
2 cloves of garlic, chopped
6 cups good quality chicken stock (I use low-sodium organic)
4 cups of water (I added water – Rachael Ray's recipe doesn't call for water)
1 pound (the average weight of 1 package) chicken breast tenders, diced (we use organic)
1/2 pound wide egg noodles
A handful fresh parsley, chopped
A handful fresh dill, chopped
Salt and pepper
Directions:
1. Place a large pot over moderate heat and add extra-virgin olive oil. Work close to the stove and add vegetables to the pot as you chop, in the order they are listed and sauté the vegetables for 6-8 minutes.
2. Add the stock and water to the pot and raise flame to bring liquid to a boil.
3. Add diced chicken tenderloins, return soup to a boil, and reduce heat back to moderate. Cook chicken 2 minutes and add noodles. Cook soup an additional 6 minutes or until noodles are tender and remove soup from the heat.
4. Stir in parsley and dill, season vegetables with salt and pepper, to taste and serve.
p.s. Besides downloading the Recipe Guide, did you know that you can track your family's FreshOver Project on the Ziploc Facebook page?
 Disclosure:  I have partnered with Ziploc® Brand and am being compensated for my posts. However, my opinions on the product are my own.