I try not to fixate. I try not to stare. I think it is rude, time-consuming and takes to much energy. Then again I am a bit fixated on my kids and that is totally worth it.
However, I have been fixated, have been staring and have maybe, just maybe, spent too much time thinking about: this beautiful board I created on Pinterest: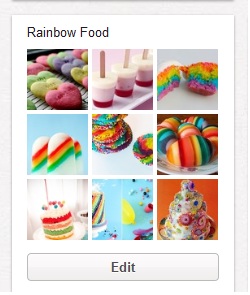 Because I could not get rainbows out of my mind, I decided to start trying some techniques in preparation for Valentine's Day. Since I knew it would take a few attempts to get my rainbows just right, I grabbed a boxed cake and icing mix from Trader Joe's and set to work.
My first try last week resulted in what I call 'scary psychedelic' rainbows although the kids I shared them with did not seemed scared or traumatized in any way. Phew.
I went at it again yesterday and made both heart shaped cupcakes and a large heart shaped cake. I used India Tree natural food coloring and one drop of regular food coloring but only because I wanted to make sure the colors were a bit brighter for these photos. When you use the natural food coloring, be sure to use a good amount so you get a nice pastel color.
Another picture because truth be told, you need more of them….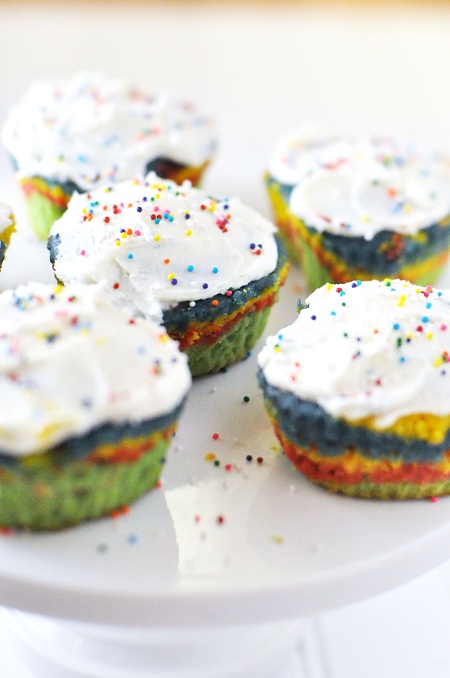 Snap out of it cause here comes the recipe:
Rainbow Heart Cupcakes
Ingredients:
1 box of quality white cake mix
1 box of quality icing
India Tree Natural Food Coloring
Whatever else the boxes above require
Wilton silicone heart cupcake molds
Directions:
1. Preheat the oven. Prepare the cake mix as directed on the box.
2. Separate the cake batter into 4 bowls and add 6 drops of one food coloring to one bowl. Switch colors and repeat in a separate bowl.
3. Mix well and set aside for 5 minutes. Decide if you want to add more color to each bowl.
4. Layer the batter gently, one color at a time into each mold.
5. Bake as directed. Prepare the icing.
6. Allow the cupcakes to cool completely, apply icing and sprinkles/nonpareils.