Last month I attended the annual Soup Swap (recall from last year?) and absolutely fell in love with a recipe for an African Peanut Soup. Out of the five soups I brought home, I knew I had to thaw and share this one with my hubby immediately.
Since then we have made it twice and fine tuned our adaptations. If you like more spice, feel free to add in some curry or red pepper flakes.
Prepare to share because when someone smells a peanut butter soup, they will grab your bowl and dig in!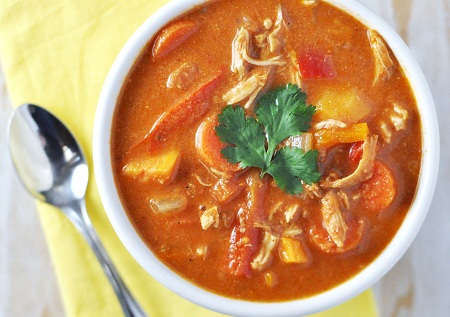 Slow Cooker Peanut Butter Soup (Yield = 8 servings)
Adapted from allrecipes.com
Ingredients:
1 tablespoons olive oil
¾ lb. skinless, boneless chicken breast, cooked chopped roughly into bite-sized pieces
1/2 sweet onion, chopped
1/2 red bell pepper, sliced
1/2 yellow bell pepper, sliced
3 cloves garlic, minced
1 (14 ounce) can crushed tomatoes
1 sweet potato, peeled and cut into bite-size pieces
2 carrots, peeled and cut into 'coins'
2 cups low-sodium organic chicken broth
¼ teaspoon ground cumin
1/2 teaspoon chili powder
1/4 teaspoon cayenne pepper
1/8 teaspoon ground black pepper
1 cup crunchy or creamy peanut butter
Water, optional to thin soup
Directions:
1. Heat the oil in a skillet over medium heat. Add the onion, bell pepper and garlic and cook for about 5 minutes every minute or so. Place the chicken and sauteed vegetables into the slow cooker set on High 6.
2. Add the tomatoes, sweet potato, carrot, chicken broth, cumin, chili powder, cayenne pepper, and black pepper into the slow cooker and mix well. Cook for 6 hours on high or 8 hours on low. If you notice the soup getting to thick, feel free to add a bit of water.
3.  When about an hour remains on the slow cooker clock, add in the peanut butter and stir very well. Serve warm.