Last night my husband proposed that maybe instead of worrying about getting a sitter etc., that we make a meal together for Valentine's Day.
We began brainstorming what we would make and a side of potatoes was agreed upon. However, we want the sides to be as special as the main protein so Hasselback potatoes was suggested.
Making Hasselback potatoes requires a bit of preparation but after that, the oven does the rest of the work. 
They are pretty right? Givin' that loving feeling?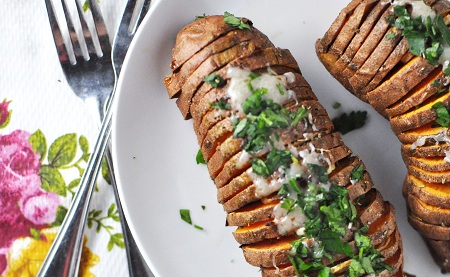 Sweet Potato Hasselback Potatoes (Yield = 2)
Ingredients:
2 large sweet potatoes, well rinsed and dried
1 tablespoon olive oil
1/2 shallot, sliced thin
1/8 teaspoon coarse
A scant amount of ground black pepper
fresh parsley, minced
shredded cheese (preferable gruyere, fontina or cheddar)
Directions:
1. Preheat oven to 425 degrees and cover a baking sheet with aluminum foil.
2. Prepare each potato by making sure the flat-est end is on the cutting board (or create a flat end by slicing off a layer). Now, using two long wooden chopsticks or wooden spoons, place one on each side of the potato lengthwise. This will help you know where to stop the knife with each slice. Using a sharp knife, slice each potato width-wise, making 1/4-inch slices, cutting down until the knife hits the chopsticks/spoons. Make sure you do not go past 1/2 inch on each end of the potato.
3. Repeat with remaining potato.
4. Brush the olive oil over the potatoes and then slide a piece of shallot into every 3 slits or so. Sprinkle with salt and pepper.
5. Place the potatoes on the baking sheet and place in the oven for 40-50 minutes or until the potatoes are crispy on the outside but soft on the inside.
6. Remove them from the oven, scatter the cheese and parsley all over each potato and dig in!
Speaking of Valentine's Day, on February 1st, I co-hosted a live chat in the Udi's community about Valentine's Meals. Here is a snippet from the chat. Don't worry, you can
read more
!