Thanks to my husband, my son is going to get in a ton of trouble at school. This will occur as my husband is the master of the sarcastic facial expression and my son has inherited the gene. I can forsee his school teacher pointing her finger to the door indicating that my son needs to go see the principal.
This is the same look that my husband will give you if you ask him 'How did you lose all that weight?'. He reply, served with the smart-arse look is: 'Uh, I ate less and exercised'. Yup, that is the big weight loss secret folks. It is hard and a pain and a bummer but it works.
I am really proud of my husband for his new dedication to fitness. Living in this house, there is no junk food and anything along those lines but once you hit 40 and sit at a desk all day and not perform aerobic activity, the weight creeps on. My husband has always been active in the not-a-couch-potato type but his body requires aerobics and some weights a few times a week or it tends to beckon the calories to convert to fat.
So, onto a recipe that we all actually ate for dinner the other night: consider this a modified and healthier Croque Madame.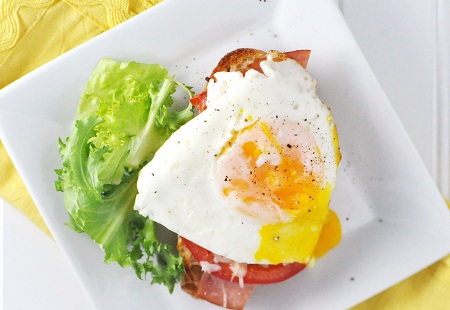 Open-Faced Egg Sandwich with Ham and Tomatoes (serves 2)
Ingredients:
2 1/2 inch slices of your favorite rustic bread
2 teaspoons olive oil
2 organic eggs
1/3 cup shredded Monterey Jack cheese
1 thin slices no nitrat/ite added ham
4 think slices of organic tomato
fresh ground black pepper
lettuce greens, optional
Directions:
1. Turn the broiler on in your oven and place the oven rack on the middle level. Also preheat the olive oil in a saute pan over medium heat.
2. Place the bread into the oven for just long enough to become lightly browned. Meanwhile, crack the eggs into the pan, turn the heat to low and allow the eggs to cook. Periodically spoon the oil over the egg in order to 'fry' the top.
3. Remove the bread from the oven and scatter the cheese on top, followed by the ham, tomato slices and one egg. Top with some black pepper and fresh lettuce greens if you wish to add an additional layer of crispness.