This past Sunday in church, the pastor was talking about feeling lost: "Everyone finds themselves lost at some point in their life". As soon as he said it, I had the 'ah-ha' moment as that phrase was the perfect description for what I am feeling.
I could elaborate but I am still digesting all of it. I do know that this is a time of transition for myself and the family. I know there is more change coming and sometimes it feels exciting and other times it feels scary. However, the pastor also said that during this season of Lent, it is a good (not exactly the way he said it) time to be lost and to find oneself again. Amen!
Speaking of Lent, this past Friday we went the fish route but with a twist: This fish sticks I made last week varied a bit from the original Baked Fish Sticks because I omitted the pepper blend and dill so follow the recipe otherwise. I also created a beyond delicious tartar sauce that takes fish sticks and tartar to an entirely new level.
A must make people.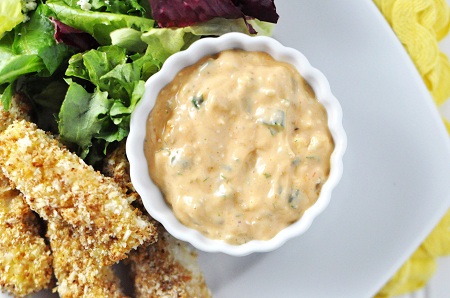 Spicy Buffalo Tartar Sauce (dipping sauce for 4)
Ingredients:
1/4 cup blue cheese or Gorgonzola
1 teaspoon shallot, roughly chopped
1-2 dill pickles, roughly chopped
A few splashes of pickle juice
1 teaspoon capers
A small handful of cilantro (or parsley if you prefer)
1/2 cup reduced-fat mayonnaise
2 tablespoons (or more) Frank's original hot sauce
Freshly ground pepper to taste
Directions:
1. Place cheese through capers into a mini-chopper, food processor or grab a whisk and pulse/whisk them together for a few seconds until well incorporated.
2. Add the mayonnaise, hot sauce and black pepper, pulse a few times and taste. Adjust the ingredients to taste and dip away!