I have a question for you: What do you love most about trying something new?
I decided to try experimenting with Kale and while doing so, I tossed the question out of various social media channels.
Here are some of the answers people gave:
*Overcoming fears
*Tackling the unexpected
*I also like the looks on the faces of people who doubt you!
* The possibility that I'll find something I absolutely love, and that I will find uses for again and again.
*Not knowing how it's going to turn out
*That feeling of "I can do anything!" that comes with it.
*Getting away from the same ol' same ol', creating a sense of brand new, and possibly developing a passion!
*Being proud of myself for stepping out of my comfort zone.
*I love the initial fear that you have before trying something new. When I push through that feeling and try something new, outside of my comfort zone, it feels amazing.
*It makes me feel brave
*The thing that scares me most about trying something new is the very thing I love. You just don't know!
*Surprising myself.
*This goes with my motto, 'learn a little bit more today.' That's what. I usually learn something, whether it is about myself or something or someone when I try something new.
*It makes me think differently. It's like it unlocks part of my mind that just goes dormant when I go past routine and into rut.
*I love the excitement of the unknown when trying something
*Viva! It's either an awesome feeling or a 'never gonna do that again' moment – either way my bucket list is getting shorter!
*The sigh of relief that comes after when you realize it wasn't nearly as scary as you thought it would be.
*The surprises that the new experience brings.
*Knowing I CAN try something new.
So many great answers right? I know! Okay, back to the Kale in the recipe. This recipe incorporates chorizo which is a sausage that my husband's Portuguese family enjoys. There is also shrimp, tomatoes, other vegetables and instead of a more traditional okra as in a cajun stew, I used Kale. The entire recipe is Gluten Free to boot so you can share it with all your gluten-free eating friends.
Speaking of gluten free recipes, share your gluten free recipes that incorporate an Udi's products and you can win big in their 'Look Again It's Gluten Free' Recipe Contest.
The prizes are amazing – One Grand Prize: a three day/ two night trip for two people to California for a Gluten Free cooking class at Le Cordon Bleu. Ten Finalist Prizes: Udi's shopping bag and $25 in Udi's Gluten Free coupons.
Onto my gluten-free and fabulous recipe which we enjoyed with a few slices of Udi's newest bread, 'Flax Seed & Fiber'. My kids love having some bread with their meals and when there is a hearty sauce as part of the meal, they can't resist!
Wedge the sweet onion….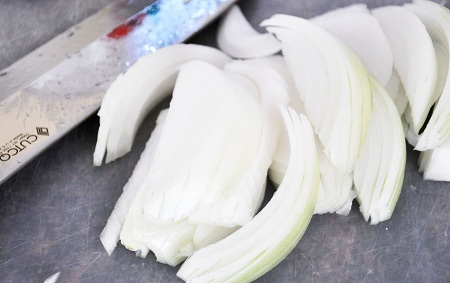 Prepare the rest of the vegetables….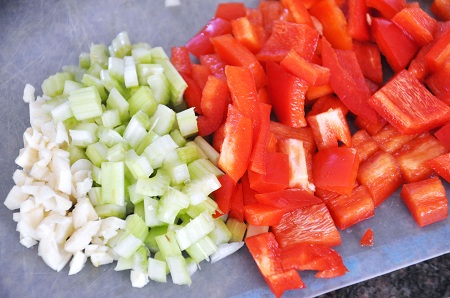 Mix up the stewed tomatoes and sausage…..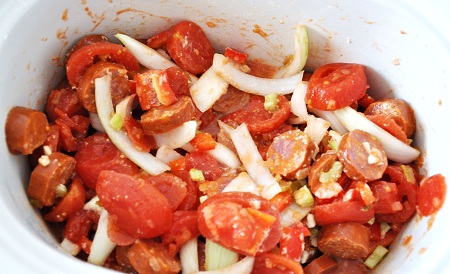 A few hours later add the kale and shrimp….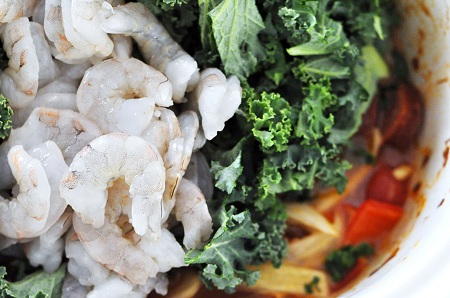 You do recall that I am a community leader in the Udi's Community right? You really should come over because we have many great conversations going on over there from talking 'real food' to 'party food recipes'. Please join us!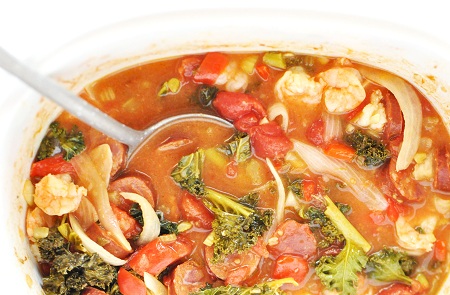 Slow Cooker Chorizo Stew (Serves 4)
Ingredients:
¾ pound chorizo sausage, sliced into ½-inch-thick rounds
½ sweet onion, sliced into wedges
2 garlic cloves, roughly chopped
2 celery stalks, sliced lengthwise and chopped
½ red bell pepper, coarsely chopped
1 can (28 ounces) stewed tomatoes
1 cup water
½ pound large shrimp, peeled and deveined
1 cup fresh kale, washed, dried and roughly chopped (avoid thick stalk at the end)
1 tablespoon corn starch
¼ teaspoon coarse salt, or to taste
1/8 teaspoon ground black pepper, or to taste
Directions:
1. In a 5- to 6-quart slow cooker, place sausage, onion, garlic, celery, bell pepper, tomatoes and their liquid, and water. Cover and cook for 5-6 hours on low.
2. Mix cornstarch with a few teaspoons of water to form a slurry and stir into the slow cooker. Add the shrimp, kale, salt and pepper. Mix well. Cover and cook for 1 hour on low.
I loved combining new flavors and gluten free ingredients to create this delicious recipe. Now I'm curious to know, what do you enjoy most about trying something new?
For your chance to win a $350 William Sonoma gift card to purchase a Kitchen Aid Mixer or other gluten free cooking tool of your choice, complete these two steps:
2. Tell us that you've invited your friends to enter the Look Again, It's Gluten Free Recipe Contest AND tell us what you enjoy most about trying something new below
This is a sponsored conversation written by me on behalf of Udi's Gluten Free. The opinions and text are all mine. Official BlogFrog Sweepstakes Rules.