I caught a sneak. Last night our 6 year old tip-toed down the stairs after bedtime to see what was going on as he had heard me talking to a friend who had stopped by. I immediately noticed a little suttin-suttin on his right cheek.
I stepped forward to get a closer look and then my husband said 'Oh, well, I can tell you what that is from'. The explanation went as follows:
"Benny had candy cane in bedroom and asked me if he could leave the rest of it there so he could finish it tomorrow.  I said ok and said good night. A few minutes later I came back to check on him and he had it in his mouth.  He said he was just checking it to make sure it was ok."
Our son looked at me to see what my reaction would be to this information and with perfect timing, my friend said 'Ben, I was 6 once, I understand.'
See why the kids love Kim just as much as I do?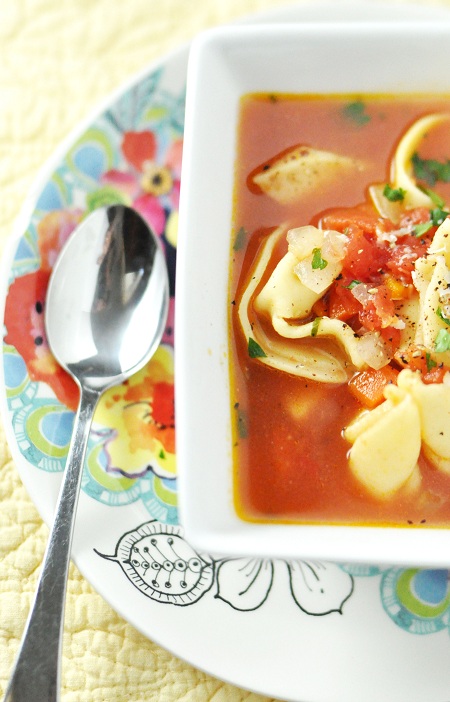 Speedy Vegetarian Cheese Tortellini Soup (Yield = 4 large servings)
Ingredients:
1 tbsp. olive oil
1 large carrot, peeled and chopped
2 celery stalks, chopped
3/4 cup sweet onion, chopped
2 large cloves garlic, chopped
3 spring fresh thyme
1 (15 oz.) can organic diced tomatoes and juice
4 cups low-sodium organic vegetable broth
10 oz. fresh tortellini
a handful of fresh parsley
Salt and pepper, optional
Grated Parmesan, optional
Directions:
1. In a large pot heat the olive oil over medium-high heat.  Add the carrots and celery and cook for about 3 minutes, stirring often.
2. Add the onion and cook for 2-3 and then add the garlic and cook for another minute.
3. Toss in the thyme, tomatoes and broth and bring to a boil. Add the tortellini to the pot and cook according to the manufacturer package directions. Remove the soup from the heat, mix in theparsely and season with salt and pepper if necessary. Grate some fresh Parmesan on top for the finishing touch.