A funny thing happened while driving the kids to school yesterday. And by funny I mean, even my 6 & 7 year old were laughing and sometimes a bit confused.
When we bought the van, it came with three free months of Sirius radio and when the kids are in the car I tune it to 'Kids Live'. The kids love to put the wireless head phones on (also came with the car) and listen carefully to the lyrics. Along came 'The Mom Song'
The premise of this song is that these are the words/sayings that a mom says in a 24-hour period, condensed into a 2 minute and 55 second song.
Take a listen and prepare to bust your gut.
My favorite part of our van ride was when my son removed his headphones and said 'Mommy, that is what you say to Daddy!'. He was referring to the statement 'Don't roll your eyes at me'. I said 'That is correct Ben, make sure when you feel the need to roll your eyes at me, you do it while you are walking away so I can't see your face'.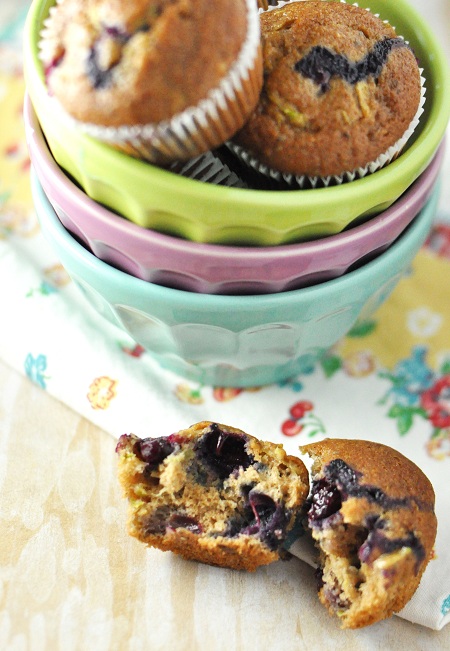 Blueberry Zucchini Chia Muffins Recipe (Yield: 18 muffins)
Ingredients:
1 1/2 cup unbleached all purpose flour
1/2 cup unbleached white whole wheat flour
1 teaspoon baking soda
1/4 teaspoon baking powder
1/4 salt
2 teaspoons cinnamon
1 tablespoon chia seeds
3 eggs
2/3 cup agave nectar
3/4 cup brown sugar
1/4 cup canola oil
1/2 cup applesauce, no sugar added
2 tablespoons lemon juice
1/2 teaspoon pure vanilla extract
1 1/4 cup grated zucchini, chopped (about 1 medium-sized zucchini)
1 1/4 cup blueberries
Directions:
1. Preheat oven to 375 degrees.
2. Spray the muffin tin with baking spray or use baking cups.
3. Combine the first seven ingredients together in large bowl, combine and set aside.
4. In a separate bowl, whisk the eggs and then add the nectar, sugar, oil, applesauce, lemon juice and vanilla and whisk until combined.
5. Fold in the zucchini and blueberries into the wet ingredients.
6. Add dry ingredients to wet and fold to combine.
7. Fill each muffin tin 3/4 of the way. Bake for about 25 – 30 minutes (Test doneness by inserting a toothpick and making sure it comes out 'clean').