I generally do not like the sound of something cracking. It is really never a good thing.
Think about it: When does the sound of something cracking ever mean something good?
Well, there is one exception: Cracking hard-boiled eggs.
However, by the third day after Easter, you are trying to figure out how you can ingest another hard-boiled egg without making the ugly face.
You know the face, the one you make when you are trying to hold back tears or the urge to get sick.
I know the answer! Take those pastel colored protein packed babies and get cracking!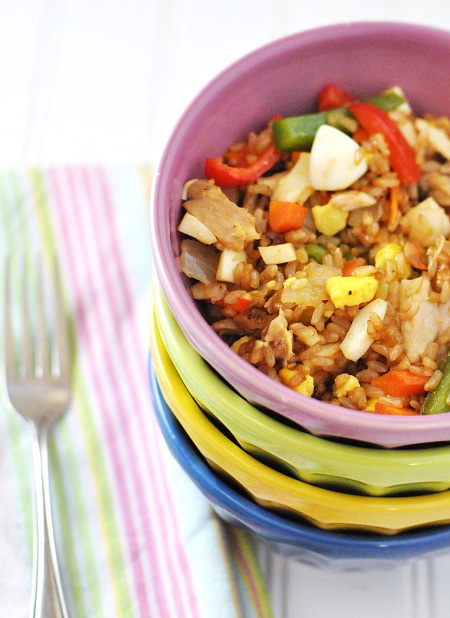 Easter Egg Fried Rice: What To Make With Leftover Hard-Boiled Eggs (Yield: 4 servings)
Ingredients:
3 teaspoons canola oil
1/3 sweet onion, roughly chopped
1/2 large red bell pepper, chopped
1/2 large green bell pepper, chopped
2 cloves of garlic, chopped
3-4 cups of cooked brown rice
2 tablespoon reduced-sodium soy sauce
2 tablespoons light rice vinegar
1 tablespoon sesame oil
2 cups cooked chicken, chopped
2 hard-boiled organic eggs, chopped
Directions
1. Cook rice according to manufacturer's instructions.
2. Heat the 2 teaspoons of oil in a wok or large skillet over medium heat. Add the onions and peppers and cook for 2 minutes, stirring frequently. Then add the garlic, mix well and allow all the cook for 1 additional minute.
3. Remove the vegetables from the pan and set aside. Add the remaining 1 teaspoon of oil to the pan and turn the heat up to medium-high. Add the rice, spread it out evenly and leave it alone for about 3-4 minutes as it browns. Don't move the rice, just allow it to 'fry'.
4. Add the vegetables, eggs and chicken to the pan along with the soy sauce, vinegar and sesame oil. Toss well, season if necessary and serve.
By the way, if you are looking for Gluten Free Easter Menu ideas, please read through the Live Chat we had last week because the ideas and recipes shared were phenomenal.
Seriously, and I don't use that word often.