I like teeth. They are quite useful.
They certainly help out with chewing food.
They help our smiles look quite attractive too.
I have also found that some people use them as a more creative tool: Removing tags from clothing, opening beer bottles and even shortening your nails if you find yourself without a nail clipper (yucky, please stop doing that).
Teeth can also stir up emotions.
As an example, I find that I would like the baby versions to remain in my childrens' mouth. Our son lost his second tooth last night. The first emotion I felt was a touch of sadness but that quickly turned to excitement as I shared in his pride and preparations for the arrival of Pashmina Toothatina.
Yup, according the notes the tooth fairy has left, her name is Pashmina Toothatina.
Chew on….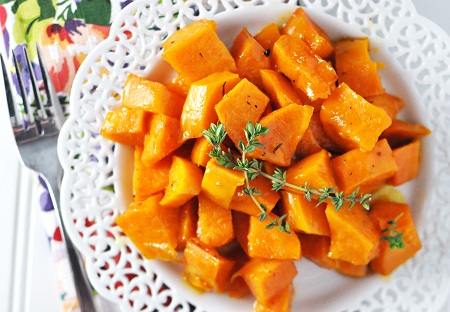 Honey Apricot Roasted Sweet Potatoes (Yield = 6 side servings)
Ingredients
2 tablespoons butter, melted
1/3 cup honey
1/4 cup apricot preserves, room temperature if possible
2 pinches of dried thyme
3 large sweet potatoes, peeled and roughly cut into 1 1/2-inch pieces
1/4 teaspoon salt
A few pinches of freshly ground pepper, to taste
Directions:
1. Preheat oven to 400°F.
2. In a large bowl, whisk together the butter, honey, preserves and thyme.
3. Prepare the sweet potatoes and then add to the bowl with the dressing. Toss to coat well and season with salt and pepper.
4. In a 9-by-13-inch baking dish spread the potatoes in a single layer, cover with foil and bake for 15 minutes.
5. Remove the foil, stir the potatoes, recover and bake an additional 10 minutes. The potatoes should be fork tender, if not, bake an additional 10 minutes.
Hoppy Easter!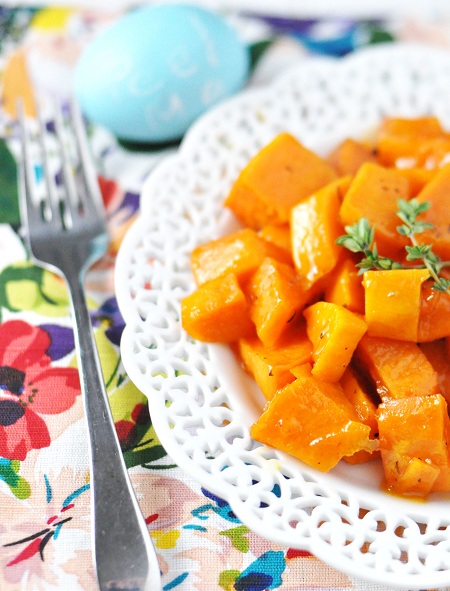 What's on your Easter Menu?