Back in January, I attended the annual 'Soup Swap' that my friend Kate hosts each year. After the soup swap, we each share what soups we have tried, loved etc. in a closed Facebook group.
A particular post by Kate jumped out at me as she shared that she is a bit obsessed with topping her soup with salad! Ever since I read that, it has stuck on my mind therefore, I decided to try it out.
One day last week my husband was going to take his parents to an appointment in Boston so I wanted to make him a nice lunch before he left for a long day. I made a quick and easy pasta and vegetable dish and then topped it with a salad.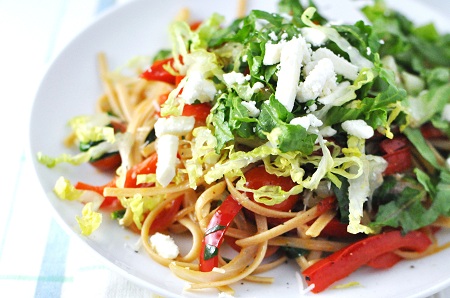 Linguini with Vegetables Topped with Romaine & Feta (serves 4)
Ingredients:
1/2 pound whole grain linguini
2 tablespoons extra-virgin olive oil
1/2 red pepper, sliced
1/3 sweet onion, sliced
3 cloves of garlic, roughly chopped
1/2 pint grape tomatoes, cut in half lengthwise
1 small head of romaine lettuce, shredded
1/2 cup crumbled feta
a handful fresh parsley, chopped
a few tablespoons of grated Parmesan
freshly ground black pepper
Directions:
1. Boil Linguini according to box directions.
2. Meanwhile, heat the oil in a large skillet over medium heat. Add the red pepper and saute for 2 minutes.
3. Add the onion and garlic and saute an additional 2 minutes. Toss in the tomatoes and cook for 1 minute. If you think you will want more sauce/moisture, add some chicken broth or even pasta water.
4. Drain the linguini and toss into the skillet and toss well. Plate the linguini and vegetables and top with a handful of lettuce, some feta, parsley, Parmesan and pepper.
Do you top any of your meals with lettuce?