I wish I knew how to spell some of the words that I think of while dreaming of grilled cheese. I don't even think that they would make sense if I spelled them phonetically.
However, a few familiar words come to mind: yummy, gooey, cheesy, crispy yet chewy, luscious. Those are all appropriate words.
Did you know that April is grilled cheese month? Perfect excuse to make one or two or three. As if you needed an excuse.
Layer the goodies…..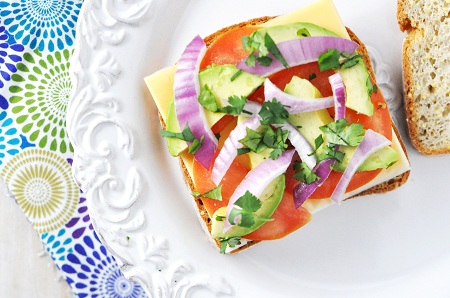 Look at those nooks and crannies…..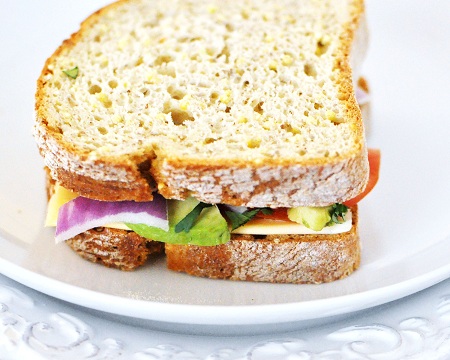 Grilled Cheese with Avocado, Tomato, Cilantro & Red Onion (yield=1 sandwich)
Ingredients:
2 slices Udi's Millet-Chia bread
1 slice of Horizon organic American or Cheddar cheese slices
2 thin slices of organic tomato
2-3 slices of avocado
A few slivers of red onion
fresh cilantro, chopped
Directions:
1. Heat up your indoor grill, panini press or skillet.
2. Prepare all ingredients and stack onto one slice of bread. Top with remaining slice of bread.
3. Grill until the cheese is all gooey and bread is toasty. If using a pan, you may wish to use some butter spray or a light schmear of butter on each slice of bread.
4. Allow to cool slightly and enjoy!
Wait, I have the perfect word: 'Love'.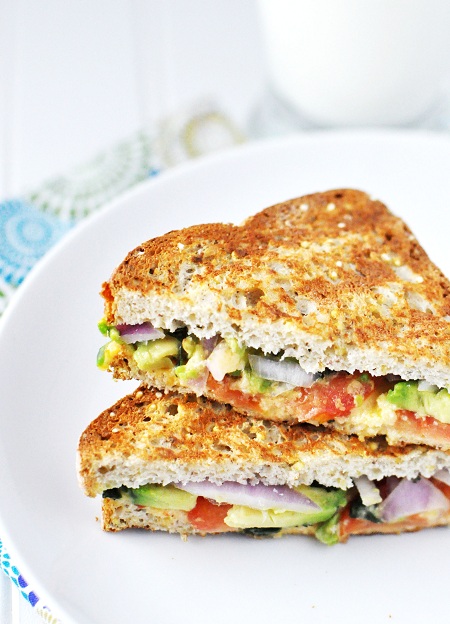 Speaking of gluten free, there was a fabulous and educational live chat in the Udi's Community last week about gluten free baking. I think you would learn so much so come on over and read through the conversation.