Who Knew?! Who knew that Saturdays, not Sundays, are the best day to hit tag sales? Did you know and not tell me?
Apparently this is especially true on Memorial Day weekend when everyone does not even bother to leave a morsel for us Sunday deal hunters.
I picked up my buddy Kim (aka 'Sandra Lee' or 'Ms. Crafty') to come along for some early morning hunting but after heading to four homes that decided not to have a tag sale (or were sold out), we were feeling a bit bitter. And by bitter I mean, we began to laugh uncontrollably. Alas, we did end up finding a pile of leftovers with a "FREE stuff' sign pointing down at the sad pile.
At first I told Kim, nope, let's not bother looking but then we spotted an old rusty sled and Ms. Crafty herself convinced me I could make a sa-weet address sign for my home. I have not shown this project to my hubby yet. I know what he will say.
Let's move on…..
Another friend asked me for my infamous Tortellini Salad recipe last week and I realized I never shared it online. I honestly just wing it each time however, it always has some fresh raw vegetables, fresh herbs and a homemade vinaigrette.
I call this salad recipe 'passionate' as I use some strong flavors in the vinaigrette but you can feel free to temper it down, use more oil etc.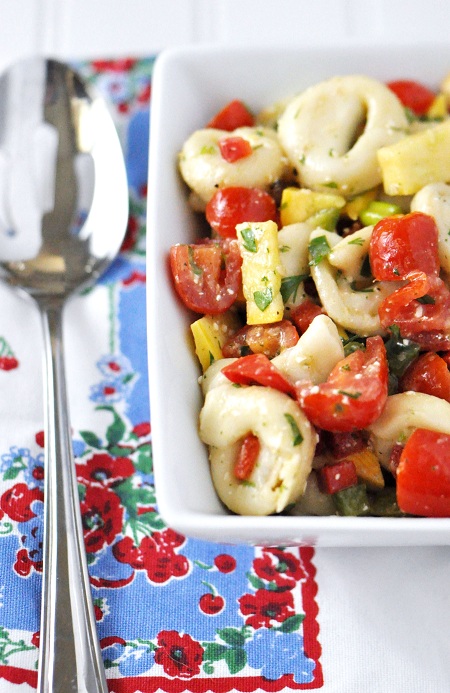 Vegetarian Tortellini Salad with Red Wine-Feta Vinaigrette (Yield = ~3 cups)
Ingredients:
12 oz. bag of frozen cheese tortellini
1/2 green pepper, chopped
1/2 red pepper, chopped
1 small yellow squash, cut into 4 lengthwise strips and chop on an angle
1/2 pint grape tomatoes, chopped
3 scallions, diced
2.25 oz. can sliced olives, drained
1/4 cup red wine vinegar*
A few splashes of balsamic vinegar
1/4 cup grapeseed or olive oil*
2 cloves of garlic, chopped (unless using a processor)
A few chunks of feta
Directions:
1. Cook the cheese tortellini per manufacturers instructions. Drain, set aside and allow to cool.
2. Meanwhile, prepare the vegetables and place into a large bowl. Cover with the vinaigrette and toss gently. Refrigerate until ready to serve.
3. To make the vinaigrette, place the vinegars, olive oil, garlic and feta into a food processor and pulse to combine or whisk well in a bowl.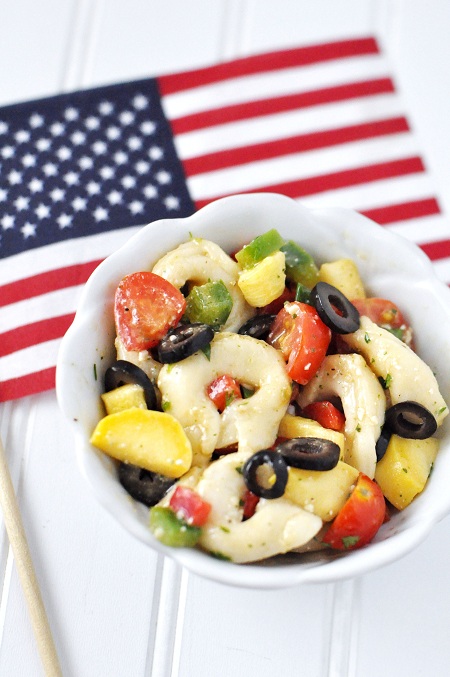 *Approximate