I have a secret to share. Wanna hear it?
Did you know that Target has a yummy blog called 'A Bullseye View'? They do and today they featured a Cinco de Mayo interview and recipes from Food Network chef Ingrid Hoffmann.
Since they had such a unique spin on guacamole (yes, I know it is fattening but since avocados are good for you in moderation I had to share), I begged them to let me share the recipe.
If you want the recipes for the guava-jalapeno margaritas, the Tinga Poblana (Mexican pulled pork) and to read the interview with Ingrid Hoffman, you have to head over to the Bulls Eye View.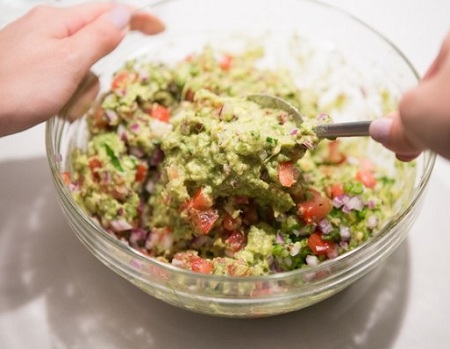 Bacon Guacamole (Serves 6)
Ingredients:
8 to 10 bacon slices (about 1/2 pound)
3 medium Haas avocados, halved, seeded and peeled
1 tomato, halved, cored, seeded and chopped
1 small red onion, finely chopped
2 serrano chiles, finely chopped (seeded and ribbed for less heat)
3 tablespoons chopped fresh cilantro leaves
3 tablespoons fresh lime juice (from about 1 1/2 limes)
Salt
Directions:
1. Heat a large skillet over medium-high heat. Add the bacon and cook until each side is brown and crisp, about 7 to 10 minutes total. Transfer the bacon to a paper towel-lined plate and let it cool completely. Chop the bacon into small bits and set aside.
2. Mash the avocados in a medium bowl until the texture is semi-smooth. Stir in the crumbled bacon.
3. Pat tomatoes dry with a paper towel and add to the avocado mixture. Gently stir in the onion, chiles, cilantro and lime juice. Taste and add salt if necessary; the bacon may add enough saltiness on its own.
Speaking of avocado, don't miss out on this amazing Super Grilled Cheese with Avocado, Tomato, Cilantro & Red Onion in the Grilled Cheese Challenge!