Finally. It is finally springtime and I can hear the brand-spanking new patio and grill calling my name. The flowers and trees have bloomed and I have been sitting outside on the deck lately and dreaming up some delicious recipes.
In fact, there is one recipe that I modified from Rachael Ray's new Look + Cook cookbook that you will love. Wait, I don't mean love, I mean lurve. Today's recipe is a perfect example on how I stretch our budget by using a whole organic chicken to make two meals: The first meal being a straight from the oven roasted chicken and the second being the recipe I am sharing today.
In fact, the Sticky Apricot Chicken recipe is so awesome that I prepared it again two nights ago using organic chicken breasts and brought it to our friend's house in a Ziploc Brand VersaGlass large square container. We popped it into their fridge while the kids played and then simply reheated it for dinner time.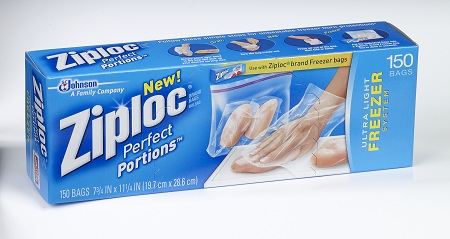 (Photo Credit: Ziploc.com)
Speaking of meals and stretching a budget, I need to talk to you. Come closer as this is important: I care about you eating well and I want to make sure you are incorporating fresh fruits and vegetables into your meals. I hear lots of chit-chat that fresh foods are too expensive and meal preparation is too time-consuming and this makes me wonder: Are you buying the items on sale? Are you planning ahead of just buying willy nilly? Are you stretching your foods as I am demonstrating today? Get creative, remember your health super important so go plant some fruits and vegetables straight away. Even a tiny amount of gardening space can yield big benefits. Also, have you taken advantage of buying in bulk and freezing?
You know Ziploc has many great freezer bags including the NEW Ziploc Perfect Portions Bags.
Ziploc Perfect Portions Bags allow families to quickly and easily store and freeze bulk foods, saving time and money. Simply place hand in bag, pick-up desired serving size and turn bag inside out to easily create portions. Put individual bags in a Ziploc Brand Freezer Bag to freeze and you're done.
If you need more ideas on how to eat fresh or have some great ideas to share, join in the FreshOver Community on the Ziploc Brand Facebook page (there are more than 384,000 members to date!). There is a great app to help out as well!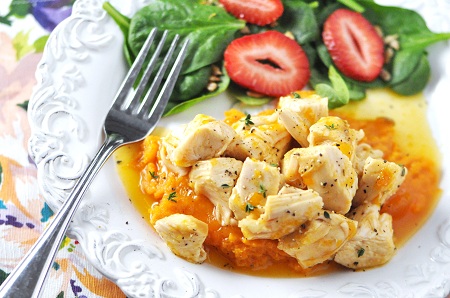 Photo Credit: Jennifer Leal
Sticky Apricot Chicken Bites
(Adapted from Rachael Ray 'Sticky Orange Chicken')
Ingredients:
2 cups boneless, skinless organic chicken breasts, cut into chunks
1/2 cup apricot preserves
1 cup low sodium organic chicken broth
1/2 teaspoon dried or 1 tablespoon fresh rosemary, roughly chopped
3/4 teaspoon fresh or 1/4 teaspoon thyme leaves
1/4 teaspoon cornstarch or cream of tartar
salt and ground black pepper to taste, optional
Directions:
1. Place the preserves, chicken broth, herbs and cornstarch or cream of tartar into a non-reactive pot and whisk together over medium-high heat. Allow to gently boil for 2-3 minutes.
2. Add the chicken to the pot, gently mix to coat the chicken and remove from the heat. Allow the sauce to thicken and coat the chicken and then serve over brown rice or over mashed sweet potatoes. Delish!
In order to help you with ideas and inspiration, I want to give you a fun prize pack that was given to all the attendees at the FreshOver event with Rachael Ray back in March! This prize pack will include Ziploc VersaGlass containers, a Rachael Ray autographed look + cook cookbook, and organic basket/bag plant pot with herb seeds.
To Enter: Answer this question in a comment on this post: What are the main obstacles that get in the way of you eating fresh foods?
For additional entries (you must answer the question above & leave an additional comment on this post for each entry.):
– Tweet this giveaway, "Win a #Ziploc Prize Pack including an autographed @rachael_ray cookbook from @savorthethyme http://su.pr/6D8iKR #FreshOver #spon" (Be sure to come back and leave the tweet URL.)
– Subscribe to the Savor the Thyme RSS feed and leave a comment that you did so (yes, I verify).
– Follow @savorthethyme on Twitter.
This giveaway will end on 5/24/2012 at 11:59 pm EST. The winner will be chosen by random.org and will be contacted by email. The winner must respond within 48 hours or a new winner will be chosen. Click here for the Official Rules.
Disclosure: I have partnered with Ziploc® Brand and am being compensated for my posts. However, my opinions on the product are my own.