'Spiky' things are not always bad or painful. They can be loving and affectionate, in a way.
I was sitting cross-cross applesauce on Thursday during my usual volunteer time when my son came to sit next to me on the floor for story-time. He snuggled right up against me and gave me a hug.
The librarian began reading the book, while my son decided to causally place his hand on my leg. He moved his fingers a bit and belted out 'Mommy has spiky legs'. I sat up straighter a bit horrified when I realized he was referring to the stubble on my leg (I was wearing capris).
He repeated it twice while I shushed him but to no avail: The librarian heard him, looked at me and we began laughing.
I headed home giggling and craving something fast, easy and a bit sweet to eat to comfort my embarrassment.
That is what I get after four days of chilly rainy weather…..One warm day and the spiky truth is revealed.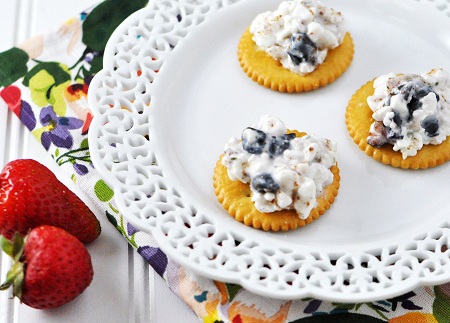 Cottage Cheese, Blueberry & Cinnamon Snack (4 cracker snacks)
Ingredients:
4 of your favorite crackers
4 teaspoons of your favorite cottage cheese
A handful of blueberries
A few dashes of cinnamon
Directions:
Mix the blueberries and cottage cheese together with a fork, mashing a bit. Spread them on the cracker, top with a dash of cinnamon and enjoy.