'Isabel, I have a secret but Mommy and Daddy can't listen'
'What is it Ben? tell me!'
'Mommy said the only snacks we get today are fruits and vegtables so don't ask for any snacks. Only ask for lunch and dinner and then we don't have to eat the fruits and vegtables.'
'Ben! Mommy and Daddy can hear you!'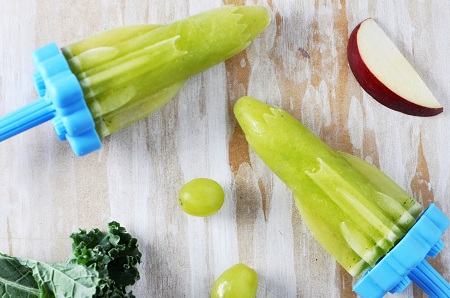 This scenario occurred this morning after Daddy made pancakes while I was at the gym. When I came home, I said, the only foods you can have at snack today are fruits and veggies. As a result, the above devious planned was hatched.
Stinkers. So, when they beg later for something to cool them off, I will hand them this rocket pop and they will think they have won. Not a problem as I will let them have the pop and then remind them they still have to eat fruits and veggies.
(Yield = 6)
Ingredients:
Follow the
Green Smoothie recipe
however, use an entire apple.
Directions:
1. Follow the Green Smoothie recipe however, strain the mixture afterwards. I used a mesh strainer resting in a large bowl and used a spatula every minute or so to move the pulp out of the way.
2. Freeze and enjoy!
Are you wondering why I called them 'Monster Pops'? Not sure as I simply asked the kids if they wanted some Monster Popsicles. They are green after all….