Eeeeekkkkk! I am not sure if you are more upset at the thought of a green smoothie or the word spider but you need to relax.
My daughter was not relaxed at 2:12 a.m. Thursday morning when she busted into our room and belted out, in tears, ' There is a spider on my table and it is huge!' She repeated this two or three times before I jumped out of bed in a daze.
By the time I got to her room, I realized my head was pounding and I was not wearing my glasses. I was unsure if she was having a nightmare as all I could think is 'How can you see a spider on your night table, in a dark room, at 2:12 am?'
She said 'I think it crawled under my book and sure enough, I lifted the book and that quarter sized bugger sprinted across the table. Uh-oh, this is a creepy job so I dragged my hubby out of bed. Normally, we try to toss insects outside but after this 8-legged naughty sprinted around the floor and headed for under the bed, my husband took no prisoners and finished him off.
Not a very appetizing story but hey, I am too tired to think of something yummy to write. It is only 9 p.m. on Thursday evening and I am heading to bed.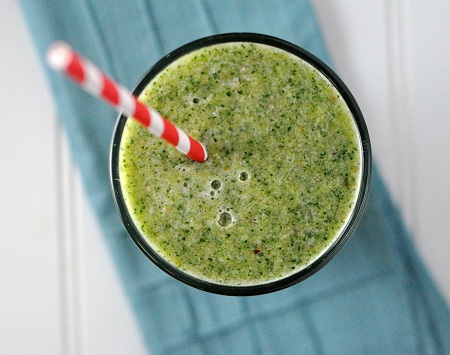 This recipe is my interpretation of the one I enjoyed yesterday. It is damn good so open your mind and start blending!
Healthy Raw Green Smoothie Recipe
Ingredients:
1 cup of grapes
2 cups of roughly chopped pineapple
1/2 apple
2 mint leaves or more to taste
A few large green Kale leaves, hard stalk removed
3/4 cup cold water
ice cubes
Directions:
Toss everything in the blender and pulse this to your preferred texture. If you wish, feel free to strain the pulp out.
p.s.: I did ask Isabel how she saw the spider and she explained that she had just used the bathroom and was lying in bed staring at the night stand when she saw something move. She said she turned the light up a bit and confirmed her fear: the tarantula like creature was stalking her. Agghhhh!