Why do you sometimes forget that simple and classic is best?
I have made homemade baked tortilla chips in the past and even let the kids customize them for the family members however, I forgot about how fun and easy this recipe is.
Plus, it is fun.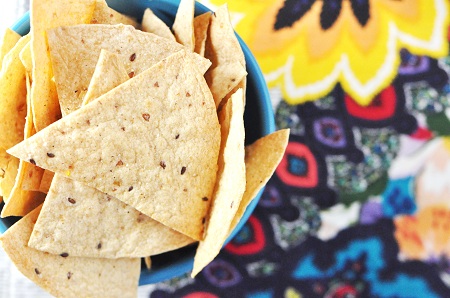 Did I remember to tell you it is fun?
Homemade Baked Salt & Pepper Tortilla Chips Recipe (Yield = approx. 60 chips)
Ingredients:
8 whole grain tortillas
canola oil spray
Coarse salt
Fresh ground black pepper
Directions:
1. Preheat the oven to 350 degrees F. Place a cooling rack on a baking sheet. Prepare more if you have the equipment.
2. Make a pile of 4 tortillas and and cut them into 8 wedges and place them in a single layer on a cookie sheet. Spray one side with a light layer of canola oil, sprinkle coarse salt and fresh ground black pepper, then flip and repeat. Repeat with the second stack of 4 tortillas.
3. Bake for 7-8 minutes.
What are your favorite chip flavors?