Summa Summa Summa Time, oh, It's Summertime! Nothing like a little Will Smith to get you smiling and ready to go for a drive.
The kids started summer vacation yesterday and the first full day was a rainy mess so now that the rain has stopped, we are heading outside.
I am packing up this salad right now as we prepare to head out for the day.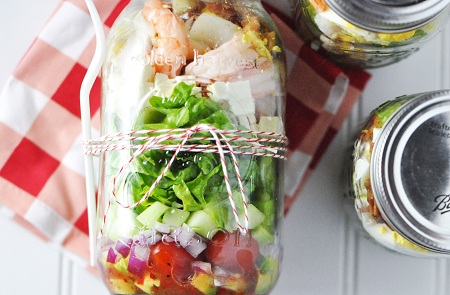 Shrimp & Feta Cobb Salad (Yield = 1, all amounts approximate)
Ingredients:
A large mason jar
A few teaspoons of your dressing of choice
2 Tablespoons chopped avocado
8 grape tomatoes
1 Tablespoon red onion, chopped
2 Tablespoons chopped cucumber
A few handfuls of romaine lettuce and baby spinach
2 Tablespoons of chopped feta
6-8 cooked shrimp
1 boiled egg, chopped
2 slices of cooked bacon, chopped
Directions:
Layer all items in order starting with the dressing, seal with the lid, grab a fork, napkin and off you go!