Um, a word of warning: If you make some of this and ask your husband to taste-test it, he might just walk away with what was to be your bowl of spaghetti.
I guess it was that good.
This is a quick dish that is also an easy way to introduce people/kids to edamame. They will probably think it is peas at first. Surprise!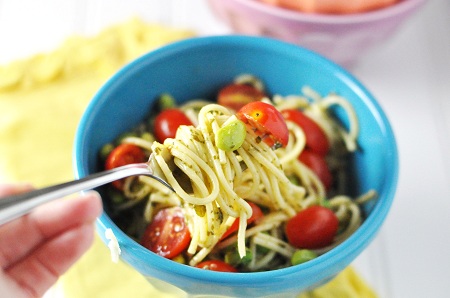 Spaghetti with Pesto, Edamame and Tomato (Yield = 6)
Ingredients:
1 lb. box of whole grain or whole wheat spaghetti.
9 Tablespoons of pesto
4 cups of frozen edamame
1 pint of cherry or grape tomatoes, halved.
fresh herbs, optional
fresh Parmesan, optional
salt and pepper, optional
Directions:
1. Bring a large pot of water to a boil and add spaghetti. When there are 5 minutes remaining, add the edamame and continue to boil.
2. Drain the spaghetti and edamame and place in a large bowl. Mix in the pesto and stir until well combined. Fold in the tomatoes, herbs, Parmesan, salt & pepper.
3. Divvy amongst the bowls. No stealing.