I have this friend. This friend who I have never seen or met but she has been there for me lately as much as others I have seen 1,000 times.
We met in an online blogging group. She blogs about books so one day I messaged her asking about some summer reading selections. Then we got to chatting on the phone .
We chatted about books, family and health. We had a lovely conversation and I tell you, I could listen to her Southern accent 'til the cowboys come home. See, my friend lives in Texas.
Any-who, Andrea (oh, that is her name in case I forgot to tell you) told me, she has a recipe to share with me that her Aunt Frieda's used to make. This recipe is called 'Aunt Freida's Guacamole'. She swore it was Texan food for the soul.
She told me that there is salad dressing in the recipe and my response was 'Uhhhhhhh……ooooo-kay'. She said 'Oh, darlin, in Texas, guacamole is its own food group so trust me!
And with that statement, I had to make it immediately. Now, she did not give me any measurements, just a list of ingredients that I adapted and what resulted was truly 'food for the soul'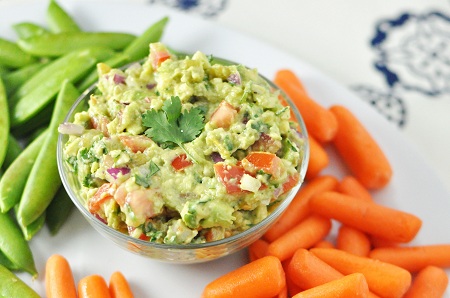 Italian Dressing Guacamole Recipe (Yield = ~2 cups)
Ingredients:
1 and 1/2 ripe avocados, mashed
1 teaspoon fresh lime juice
2 cloves of garlic, finely chopped
1/4 red onion, diced
2 organic tomatoes, diced
1 tablespoon diced chilies from a can
a large handful of fresh cilantro, chopped
2 tablespoons of Italian dressing (Aunt Frieda used Wish Bone)
Directions:
1. Scoop the avocado into a large bowl and mash with the lime juice.
2. Prepare the remaining ingredients and mix well. Consume quickly.
I strongly suggest, you make a bowl of this guacamole and then spend plenty of time on Andrea's blog 'Great Thoughts'. Then you can head off to the book store or library and enjoy getting lost in books. Hear me Y'all?