My son insists he is a cat. Our cats do not get wet food for lunch but are allowed to snack on dry food and water all day.
Therefore, my son stated that he no longer eats lunch.
He changed his mind after I dropped a plate of these babies on the table and told him that once he starts eating lunch, I will make a bigger batch.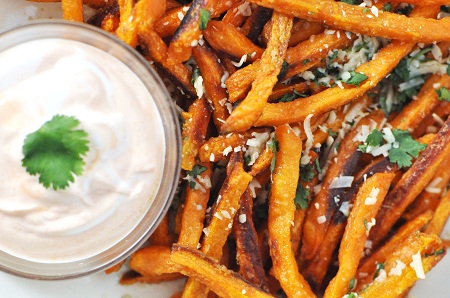 Needless to say, I did not get to eat more than one.
Baked Sweet Potato French Fries with Parmesan & Cilantro
Ingredients:
4 sweet potatoes
2 Tablespoons olive oil
1/3-1/2 cup grated Parmesan cheese
A handful of fresh cilantro, roughly chopped
Salt and Pepper, optional
Directions
1. Preheat the oven to 425 degrees Fahrenheit.
2. Peel, rinse and dry the potatoes.
3. Now, you can either:
a. Use the proper blade on a mandolin to create 'french fry' shape or
b. Cut it by hand. Depending on the size of the sweet potato, you may wish to cut it in half lengthwise but if it is small/short, don't worry about it. Take a half of the sweet potato and cut it into large slices about 3/4 inch thick. Then cut them lengthwise at about 1/2 inch to 3/4 inch thick.
4. Toss them into a bowl, drizzle with the olive oil and mix well so that they are coated evenly. Bake them for 20-25 minutes depending on their thickness and how you prefer your fries.
5. Place the fries in a bowl and sprinkle on the cheese and cilantro. Season with salt & pepper if necessary.
 Wondering what the dipping sauce is in the photos? It is Skinny Sriracha Sour Cream Dip!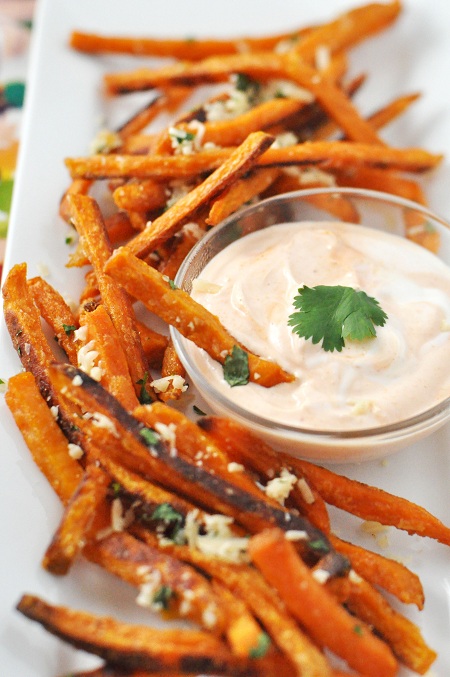 Meow!