Forget McDonald's my friends, you can make your own spicy chicken bites at home and for less money. Oh yes,  I said less money because there is no way that you could feed 4 people the McDonald's spicy chicken bites without spending more than my budget of $5.
However, I should confess that my title is a bit misleading because these are not a true copycat recipe because I am guessing McDonald's deep-fries their chicken bites so they contain much more fat than my version. Also, I suspect there is not too much chicken in each of their bites.
Plus, I bet mine are much more slammin', poppin'  and sizzlin' than theirs.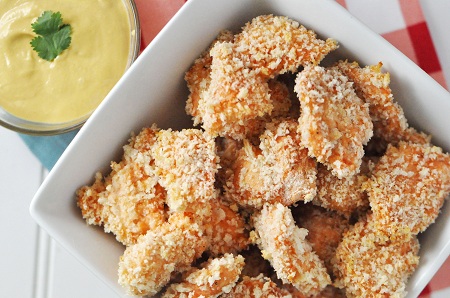 So, I came up with the $5 budget because this week, that is exactly what I received in CVS Extrabucks Beauty Club rewards when I scanned my card. Unexpected and appreciated.
I spent $4 on organic chicken breasts but you can make this even cheaper using conventional chicken breast. The remainder of the budget went to the sriracha sauce, flour, egg whites and panko bread crumbs and Dijon mustard (optional) that I already had at home.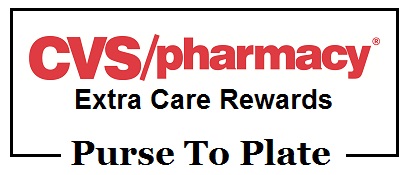 Crispy Baked Spicy Chicken Bites (Yield – 4 servings)
Ingredients:
1 pound organic chicken breasts, cut into ~1 inch chunks
1/4 cup sriracha sauce (or any hot sauce)
1/3 cup unbleached whole wheat flour (or any flour)
1/2 cup egg whites or 2 egg beaten
2 cups Panko bread crumbs
a few dashes of salt & pepper
Directions:
1. Cut the chicken into chunks and marinade in the sriracha for 5-30 minutes, depending on your schedule. Prepare the baking sheet by placing a cooling rack on it (it helps crisp the entire coating).
2. When you are ready preheat the oven to 400 degrees F and create the following assembly line: A plate containing the flour, a shallow bowl with the egg whites, and a plate containing the breadcrumbs.
3. Add a few dashes of salt and pepper to the flour and breadcrumbs and mix well.
4. Spray the cooling rack with the cooking spray. Coat each piece of chicken in flour, shaking off any excess. Dip the pieces in the egg and let excess drip off. Then roll in the breadcrumb mixture and place the chicken bites on the prepared rack.
5. Bake the chicken bites for 10-12 minutes depending on thickness of the tenders.
6. Serve with mustard or more sriracha.
Just one more looksie…..